The process to ratify the ASEAN Charter is moving ahead though three out of the 10 member-nations have yet to get on board, Dr. Termsat Charlermpalanupap, special assistant to the ASEAN Secretary-General told journalists in Jakarta last week.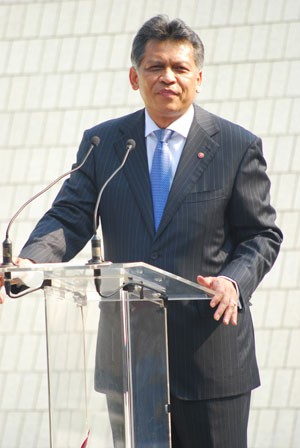 ASEAN Secretary-General Surin Pitsuwin delivers a speech at the ASEAN flag hoisting ceremony on the occasion of the 41st founding anniversary in Jakarta on August 8, 2008. (Photo: Courtesy of the ASEAN Secretariat)
The three are founding members Thailand, the Philippines, and Indonesia.

"ASEAN Secretary-General Dr. Surin Pitsuwan has flown to the Philippines and received a promise to ratify the ASEAN Charter from President Arroyo," Dr. Charlermpalanupap said.

Last year Arroyo had said her country would not ratify if Myanmar did not free opposition leader Aung San Suu Kyi and rejected calls for democratic reform.

Dr. Charlermpalanupap said Thailand had pledged in the middle of July to ratify the charter.

"[It] is now just a technical problem for Thailand."

ASEAN's charter, signed in Singapore last year, aims to commit the region's disparate nations to promote human rights and democratic ideals, and sets out the principles and rules for members. It also transforms ASEAN, formed in 1967, into a legal entity, a move that will give the group greater clout in international negotiations.

Last month the secretary-general told the media that a full ratification of the ASEAN Charter was expected in August.