ASEAN foreign ministers met here Friday looking to iron out the details for the 40-year-old group's first-ever charter, which officials hope to put in place later this year.
The charter is one of the cornerstones of an ambitious plan to turn the 10 ASEAN nations into a rules-based bloc along the lines of the European Union, in what would mark a radical change in regional affairs.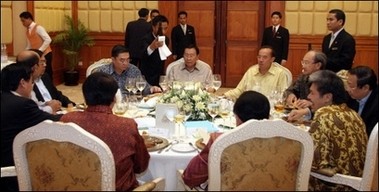 ASEAN Foreign Ministers sit together during a working dinner in Siem Reap, Cambodia
Members of the Association of Southeast Asian Nations (ASEAN) traditionally operate by consensus and keep out of each other's affairs, but a charter could pave the way for sanctions against countries that violate its provisions.
Cambodian Foreign Minister Hor Nam Hong said the task force that has been working on the details of the charter had already submitted "some points" for the ministers to take action on.
He declined to elaborate but Vietnamese Foreign Minister Pham Gia Khiem said after the meeting: "We reached a consensus on the main principle for building the charter."
The task force has until October to submit a final draft to ASEAN leaders ahead of the bloc's annual summit in November.
"I hope the charter will be finalised at the ASEAN summit in Singapore," Hor Nam Hong said after the meeting.
"ASEAN must have a charter, it is the constitution of the ASEAN community. Having a charter means having a more legal (identity)," he said.
According to the blueprint adopted at the ASEAN summit in the Philippines in January, traditional decision-making by consensus would be retained wherever possible, but members would vote on issues if agreement could not be reached.
Serious breaches of the charter would empower leaders to impose sanctions including suspension or expulsion in extreme cases, but it is unclear whether the eventual agreement will go that far.
Analysts question whether ASEAN members would take such strong action, and critics point to what has been seen as an unwillingness to take a strong line on the human rights record of the military junta in fellow member Myanmar.
Kao Kim Hourn, a secretary of state with Cambodia's foreign ministry, said that while other issues in addition to the charter were on the agenda for the foreign ministers' meeting here, Myanmar definitely was not.
"It is not time to deliberate on that issue," he said.
ASEAN, which was founded in 1967, groups Brunei, Cambodia, Indonesia, Laos, Malaysia, Myanmar, the Philippines, Singapore, Thailand and Vietnam.