BANGKOK, July 23, 2009 (AFP) - The Association of Southeast Asian Nations will not consider expelling Myanmar over the detention of Aung San Suu Kyi, rejecting US calls, Thailand's prime minister said Thursday.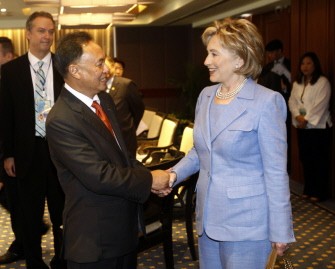 US Secretary of State Hillary Clinton (R) greets Thailand's Foreign Minister Kasit Piromya (L) just prior to their bilateral meeting on July 23, 2009 on the sidelines of the ASEAN Regional Forum in Phuket (AFP photo)
US Secretary of State Hillary Clinton told Thai television Wednesday that the regional bloc should consider kicking out the military-ruled member state if it does not free Aung San Suu Kyi.
But Thai Prime Minister Abhisit Vejjajiva, speaking as current chair of the 10-state grouping, said that while ASEAN and the West "have the same goal, we cannot implement the same policy."
"There are not enough grounds to do that (expel Myanmar). We have already done what we can under the ASEAN mechanism," said Abhisit, referring to the group's public statements expressing concern over Aung San Suu Kyi's detention.
"If Myanmar is expelled it will further isolate (the regime) and would that solve the problem?" he said.
Abhisit has rejected the imposing of sanctions on Myanmar, such as those enforced by the United States and European Union.
"We are still insisting on our policy of constructive engagement and hope that the US will understand," Abhisit added.
Abhisit's comments came on his return from the southern Thai resort island of Phuket where senior officials and ministers have held talks on Myanmar and the nuclearisation of North Korea on the sidelines of Asia's biggest security forum.
ASEAN groups Brunei, Cambodia, Indonesia, Laos, Malaysia, Myanmar, the Philippines, Singapore, Thailand and Vietnam.