BANGKOK, March 3, 2009 (AFP) - Thailand will host a delayed meeting of Southeast Asian leaders and counterparts from key partners including China and Japan on the island of Phuket next month, the prime minister said Tuesday.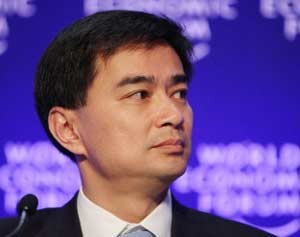 Thai PM Abhisit Vejjajiva
The meeting was meant to be in Bangkok in December but was postponed after protesters besieged the capital's airports.
Another regional summit was held outside Bangkok earlier this month due to fears of fresh demonstrations.
But premier Abhisit Vejjajiva denied that the decision to hold the latest meeting away from the capital was linked to the threat of more protests by supporters of ousted former premier Thaksin Shinawatra.
"Most cabinet ministers agreed that the meeting should be held in Phuket as it's convenient," Abhisit told reporters after a weekly cabinet meeting.
The meeting from April 10-12 will group the leaders of ten members of the Association of Southeast Asian Nations (ASEAN) with their counterparts from China, South Korea, Japan, Australia, New Zealand and India.
ASEAN leaders met for their annual summit from February 27 to March 1 in the royal Thai resort of Hua Hin. Both the annual summit and the meeting with partners were supposed to be held at the same time last year.
But protesters opposed to the previous, pro-Thaksin government occupied Bangkok's two airports for a week, only leaving when a court dissolved the ruling party and paved the way for Abhisit to come to power.
Thaksin's irate supporters -- known as Red Shirts for the clothes they wear to differentiate themselves from their yellow-clad rivals -- have since launched their own protest campaign.
They surrounded the prime minister's offices for several days last week but did not target the ASEAN summit in Hua Hin.
Abhisit said he believed the next annual summit could be held in Bangkok as planned in October.
The Thai premier meanwhile rejected criticism that the summit which ended on Sunday had failed to address the effects of the global financial crisis on Southeast Asia's export-driven economies.
"What are their criteria? Many have said the meeting was a success and a milestone. It depends on how those critics understand the purpose of ASEAN," he said.