Asian stock markets were mostly lower Tuesday despite improvement in U.S. manufacturing as doubts lingered about the durability of a rebound in the world's largest economy.
The region's markets, which tumbled the day before on a fall in U.S. consumer spending, got little relief from news that American manufacturing grew at its fastest pace last month since April 2006.
Investors were nervous that a report on U.S. unemployment due Friday will confirm that job losses continue to swell, suggesting an anemic economic recovery and a long period of subdued demand for Asia's cars, electronics and other mainstay exports. U.S. unemployment hit a 26-year high of 9.8 percent in September.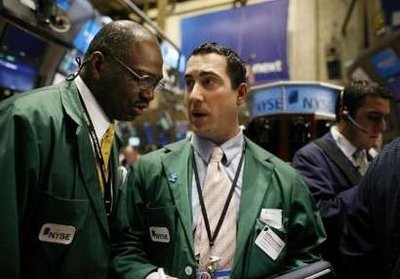 Traders work on the floor of the New York Stock Exchange, November 2, 2009.
Tuesday's interest rate hike in Australia failed to inspire the same jubilation among investors as last month's. The October rate increase, the first in a major economy since the onset of the crisis, was greeted as evidence of an improving world economy.
"There seems to be lots of uncertainty in the markets," said Peter Lai, investment manager at DBS Vickers in Hong Kong. "I'm very cautious about the U.S. economic figures. It will be very damaging to sentiment if the U.S. unemployment rate crosses 10 percent."
Hong Kong's Hang Seng led Asia's losses, falling 154.28, or 0.7 percent, to 21,465.91 while South Korea's Kospi was down 0.4 percent at 1,552.74. Japan's market was closed for a holiday.
Elsewhere, Australia's S&P/ASX 200 was down 0.2 percent and Taiwan's market lost 0.2 percent. China's Shanghai index bucked the trend, gaining 0.9 percent to 3,105.11.
On Monday, the Dow rose 76.71, or 0.8 percent, to 9,789.44, its fourth gain in 10 days — boosted by the Institute of Supply Management's report on manufacturing and other economic figures. The broader Standard & Poor's 500 index rose 6.69, or 0.7 percent, to 1,042.88, and the Nasdaq composite index rose 4.09, or 0.2 percent, to 2,049.20.
Stock futures pointed to modest gains Tuesday on Wall Street. Dow futures were up 15, or 0.2 percent, at 9,750 and S&P Futures rose 1.4, or 0.1 percent, to 1,040.50.
Oil prices hovered near $78 a barrel in Asia amid hopes of improved crude demand. Benchmark crude for December delivery was off 7 cents at $78.06 a barrel. The contract rose $1.13 to settle at $78.13 on Monday.
In currencies, the dollar fell to 90.20 yen from 90.29 yen. The euro rose to $1.4801 from $1.4764.