Japan and China, the world's second and third biggest economies, said Friday they were ready to boost spending to fight a worsening downturn as a rift widened over the global response to the crisis.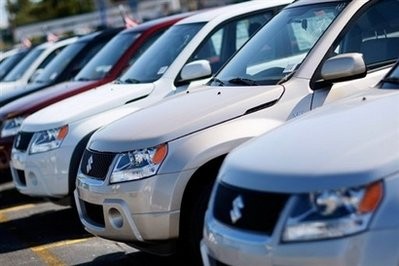 Suzuki vehicles lined up in the sales lot of a car dealership. (AFP Photo)
Japan's Prime Minister Taro Aso ordered an additional economic stimulus to battle the country's worst recession in decades, warning that it would be "too late to act" after the full extent of the slump becomes clear.
Local reports put the size of the package at 200 billion dollars.
Chinese Premier Wen Jiabao said Beijing had set aside more money to pump into the economy if necessary as he admitted the global crisis was making this year's target of eight percent economic growth hard to achieve.
"We already have plans ready to tackle even more difficult times," Wen said. "To do that, we have reserved adequate ammunition, which means that at any time we can introduce new stimulus policies."
Japan and China have already unveiled huge stimulus packages aimed at propping up their economies in the face of collapsing exports.
In a stark reminder of the huge task facing policymakers, Japan said its factory output plunged a record 10.2 percent in January from the previous month -- even more than first thought -- as global demand for its goods dried up.
Splits emerged ahead of a key meeting of Group of 20 finance chiefs, with the United States and Japan calling for more stimulus spending and European leaders pushing tougher regulations as the best route out of the crisis.
Japan's Finance Minister Kaoru Yosano questioned whether now was the right time to focus on tightening rules, telling the Financial Times that the priority now should be to "save the life of the world economy."
US President Barack Obama, who enacted a 787-billion-dollar stimulus bill last month, has called for a two-pronged effort to fix the global economy: stimulus measures and regulatory reforms.
But German Chancellor Angela Merkel has said that the main issue "is not spending even more but to put in place a regulatory system to prevent the economic catastrophe that the world is experiencing from being repeated."
The head of the Eurogroup of eurozone finance ministers, Prime Minister Jean-Claude Juncker of Luxembourg, has also rejected the US calls for more pump-priming by other G20 economies, declaring such proposals "do not suit us."
Asian stocks mostly rallied on Friday, with Tokyo posted its biggest gain this year, after Wall Street indexes rose for a third day on rare positive economic news.
Japan's Nikkei stock index closed up 5.15 percent while Sydney gained 3.4 percent and Hong Kong climbed 3.6 percent by noon.
Dealers said it was too soon to say whether markets have finally reached the bottom after months of turmoil triggered by the worst financial crisis since the Great Depression and a global economic downturn.
"It's still a little premature to call a long-term bounce, but if we see more good news out of the US we might see a little spark in the market," CMC Markets analyst James Foulsham told AFP in Sydney.
On Thursday Wall Street extended its winning streak as upbeat corporate news and better-than-expected US retail sales lifted the Dow Jones Industrial Average up 3.46 percent.
Bank of America forecast strong profits this year and troubled auto giant General Motors said that, thanks to cost-reductions efforts, it would not need two billion dollars in loans it had requested from the US government.