HUA HIN, Thailand (AFP) – Asian leaders heard competing plans from Australia and Japan for a massive EU-style bloc covering half the world's population as they wrapped up their annual summit on Sunday.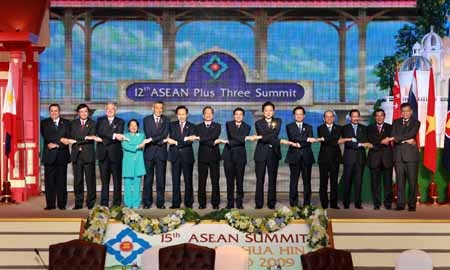 Leaders pose for a group photo during the 12th summit between ASEAN and China, Japan and South Korea in Hua Hin, Thailand, on Oct. 24, 2009
Australian Prime Minister Kevin Rudd presented his counterparts at the meeting in Thailand with his vision for an Asia-Pacific Community, possibly by 2020, as the region seeks to boost its global influence.
Japanese Prime Minister Yukio Hatoyama then pushed his rival plan for an East Asian Community, a day after saying the region should aim to "lead the world."
Heads of state at the summit in the beach resort of Hua Hin also signed pacts on boosting integration after the global recession and cooperating on issues including climate change and disaster management.
The summit of 10 countries from Southeast Asia plus China, Japan, South Korea, India, Australia and New Zealand has been dominated by talk of unity, but it has also been marred by controversy over human rights.
Abhisit Vejjajiva, the prime minister of host nation Thailand, said the leaders "listened carefully and attentively" to the plans set out by the Australian and Japanese premiers, but would not rush to any decision.
"What we emphasised was that it wasn't all that important to decide on some kind of rigid structure at the moment, but to be aware that the regional architecture would continue to evolve," Abhisit said in his closing statement.
He said there would be a meeting in Australia in December to discuss Rudd's plan and that the idea of an East Asian Community was moving forward in parallel with plans for a free trade area in the region.
Rudd's plan includes the direct involvement of the United States. The Japanese leader's proposal, however, is more flexible, while still maintaining that Washington is a "cornerstone" of Japanese policy.
"What I detect across the region is an openness to a discussion about how we evolve our regional architecture into the future," Rudd told reporters before laying out his plan, according to the AAP news agency.
"I have not set an urgent timeline on this, I have in fact suggested a timeline of 2020," he added. He would not say if his plans called for a common currency.
The Asian leaders meanwhile faced fresh criticism over rights -- especially in military-ruled Myanmar -- while the summit was also hit by bitter border disputes and signs of apathy over a meeting that was twice delayed by protests.
The launch Friday of what ASEAN said was a "historic" rights commission was overshadowed by the barring of several campaigners from a meeting with the region's leaders to discuss the new body.
Activists also slammed ASEAN for failing to press for the release of detained democracy icon Aung San Suu Kyi, although the leaders called for Myanmar's elections next year to be free and fair.
Myanmar's Prime Minister Thein Sein told his counterparts that the regime could relax the conditions of her house arrest, which was extended by 18 months in August.
Abhisit said the Asian leaders "welcomed signs of further engagement" between the West and Myanmar, following US moves to rebuild ties with the isolated regime after years of tough sanctions.
Thailand and neighbouring Cambodia remained at loggerheads over the fate of fugitive former Thai leader Thaksin Shinawatra, after Cambodian premier Hun Sen offered him a job as his economic adviser. Related article: Australia, China hold talks on Rio Tinto detained executive
Chinese premier Wen Jiabao agreed with his Indian counterpart Manmohan Singh on Saturday to work towards narrowing differences on a long-simmering dispute over the Indian border state of Arunachal Pradesh, Chinese state media reported.
Around 18,000 troops and dozens of armoured vehicles have been deployed in Hua Hin after the Asian summit was twice postponed by anti-government protests led by supporters of the exiled Thaksin.
The chairmanship of ASEAN will pass to Vietnam at the end of December.