Asian stock markets edged higher in early trade Thursday after mild declines on Wall Street ended a strong quarter in New York.
Japan's benchmark Nikkei 225 stock average was up 0.7 percent to 11168.91 on the first day of the country's fiscal fourth quarter.
The gains came after the Bank of Japan said its quarterly "tankan" survey of business sentiment showed companies gained confidence for the fourth straight quarter.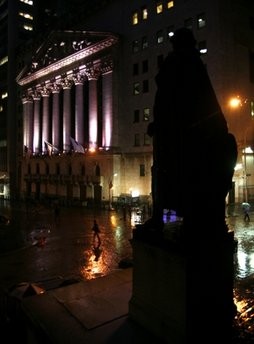 People walk through the rain past the New York Stock Exchange in New York early on Tuesday, March 30, 2010.
Yahoo Japan Corp
. was up over 4 percent and among the daily leaders after a report in the country's biggest business paper said it would tie up with China's biggest net retailer. Big tech names like Hitachi and Pioneer were also higher.
South Korea's Kospi was 0.8 percent higher at 1706.76, and shares also gained in Australia, where the benchmark had risen 0.3 percent to 4891.3.
In China and Singapore, the main bourses also saw mild gains, while Taiwanese shares and New Zealand's main index were both slightly higher.
One exception was the Philippines, where shares were lower in early trade.
In New York overnight, the Dow Jones industrials fell 0.5 percent, to 10,856.63 Wednesday, and the broader Standard & Poor's 500 index slipped 0.3 percent to 1,169.43, in the final day of the first quarter.
But traders there said they were optimistic given the steady gains over the three-month period, with the Dow gaining 4.1 percent and the S&P up 4.9 percent. The Dow Jones average has now risen for four straight quarters.
In currencies, the dollar nudged up to 93.40 yen from 93.43 yen late Wednesday. The euro was at $1.3547 from $1.3510.