Asian markets rose strongly Tuesday as investors returned from the Easter holiday in a mood to buy, encouraged by upbeat U.S. housing numbers and overnight gains on Wall Street.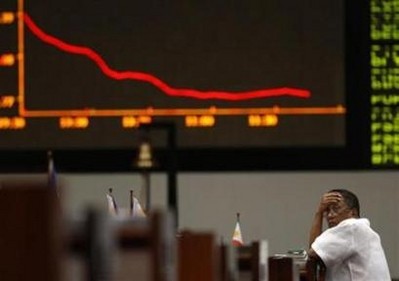 A trader stands on the floor of the Philippine Stock Exchange in Makati City, Metro Manila March 17, 2008
Markets in Hong Kong and Australia, both of which were closed since Thursday, surged on easing concerns about the global credit crisis that has battered Asian stocks since the start of the year.
"I think this is the beginning of a rally," said Francis Lun, a general manager at Fulbright Securities in Hong Kong. "We have gone down low enough and the market is ready for a rebound. Banks will lead the rally."
Hong Kong's benchmark Hang Seng index jumped 6.4 percent to 22,464.52, while Australia's S&P/ASX 200 index rose 3.7 percent to finish at 5,318.4.
Japan's Nikkei 225 index climbed 2.2 percent to 12,745.2 after closing flat Monday, and India's Sensex was up 5.5 percent in afternoon trading.
Investors were heartened by a new agreement that will give Bear Stearns Cos. shareholders five times the payout that was set in a JPMorgan Chase & Co. buyout deal a week ago. JPMorgan raised its offer for Bear Stearns to $10 a share from $2 a share. The new offer signals that investors' losses might not be as sizable as feared.
There was also optimism about the U.S. housing sector, which has been at the heart of the credit problems. The National Association of Realtors that Monday said sales of existing homes in the U.S. rose 2.9 percent in February, the first gain since July.
The Dow Jones industrial average rose 187.32, or 1.52 percent, to 12,548.64 on Monday, after rising more than 260 points on Thursday, the last day of trading before the Easter weekend.
In Tokyo, electronics and trading companies were buoyed by the recent recovery in the U.S. dollar, which was trading at 100.20 yen. Last week, it dropped below 96 yen for the first time since August 1995. Gainers in Tokyo included Canon Inc., which rose 3.9 percent, and Itochu Corp., up 4.8 percent.
In Australia, banks led the market higher. National Australia Bank, the nation's largest lender, rose 5.1 percent, while Australia and New Zealand Banking Group added 5.9 percent.
Still, some analysts warned that the declines in regional markets may not be over.
"It's too early to conclude an end of the prevailing bear market," said Ernie Hon, a strategist at ICEA Securities in Hong Kong.
The mainland Chinese market recovered from an early drop to close nearly flat, as a rally in airlines offset a continued decline in PetroChina on views the stock is overvalued. The Shanghai Composite Index rose 0.1 percent to 3,629.62.
Taiwan bucked the regional trend. Its main index slid 0.8 percent after surging 4 percent Monday amid expectations that president-elect Ma Ying-jeou will bring greater economic engagement with China.