The World Health Organisation Thursday urged Asian nations to remain vigilant against swine flu, warning that a global pandemic remains a threat despite the relatively low death toll.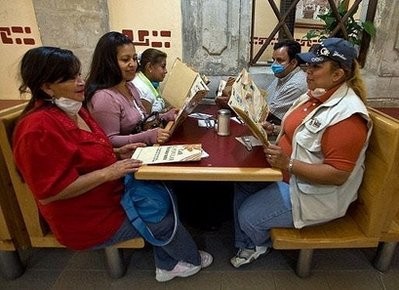 People read menus at a restaurant in Mexico City. (AFP Photo)
The warning came as officials from China, Japan, South Korea and the 10-member Association of Southeast Asian Nations (ASEAN) met in Bangkok to forge a common front in the fight against the influenza A(H1N1) virus.
Hundreds of soldiers surrounded the venue for the meeting at a downtown Bangkok hotel to prevent a repeat of anti-government protests that wrecked a regional summit in Thailand in April.
WHO Acting Director-General Keiji Fukuda said the virus was milder than that which caused the 1918 Spanish flu pandemic, but warned that it could yet follow a similar pattern and became more virulent later in the year.
"It is critical for countries to maintain their alertness and monitoring so this evolution can be followed as closely as possible," Fukuda told the Asian officials via videolink from Geneva.
"We don't believe we have fully got a handle on the severity of the phenomenon," he said, adding that Asian nations "should look very closely at their preparedness plans."
Officials from the 13 Asian nations later updated their counterparts on the measures they have adopted to counter the virus. Health ministers from the region will meet on Friday.
WHO figures on Wednesday said that 1,893 cases of influenza A(H1N1) infections have been reported by 23 countries, with 31 dying from the disease, although Asia has been relatively unscathed.
Fukuda said, however, that vigilance was necessary.
"Complacency is the greatest danger," he said. "It does appear to be a period where the virus maybe seeding itself in various parts of the world."
He added: "What we are seeing now is milder than in 1918 (when up to 50 million people died). But the 1918 started mild in springtime and became more severe in winter."
The meeting was the first of ASEAN and its regional partners since protesters stormed a summit in the Thai beach resort of Pattaya in April, forcing some foreign leaders to evacuate by helicopter.
Thai security forces blocked off roads around the hotel and troops brandishing riot shields and batons stood guard on Thursday, although there was no sign of any demonstrations.