Asian stock markets were mostly higher Wednesday, extending a tentative recovery as investors went fishing for bargains after Wall Street rebounded following a week of losses.
The main indices rose for a second straight day in Shanghai, Sydney and most other markets across the region, but Tokyo and Hong Kong turned lower again. The main European bourses opened slightly higher.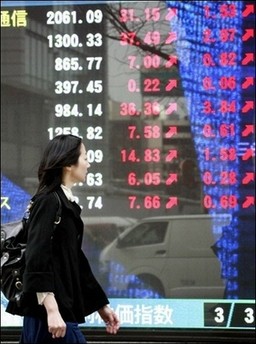 A pedestrian walks past an electronic share index in Tokyo.
Wall Street's strong rally Tuesday bolstered sentiment, dealers said, but they added that the gains may be capped by profit-taking as many investors are still uncertain about the global market outlook.
Analysts said that shares were likely to continue a period of adjustment following the recent rout sparked by worries about the slowing US economy and China's rapidly rising stock market.
"Because of the falls, valuations have come down to levels that are much more comfortable," said Lorraine Tan, head of Asian equity research at Standard and Poor's in Singapore.
"I think at the current levels, definitely the market can be sustained. It just needs to consolidate for a little while longer. We feel that economic fundamentals are intact and I think we can see a resumption of the upswing after this," she added.
In Shanghai the composite index closed up 1.99 percent, continuing a recovery after a week-long slump that roiled markets around the world.
"The market was supported by renewed buying interest in the wake of a rebound in overseas markets, with bargain hunters building positions in oversold issues," said Zhang Yi, an analyst at an investment consulting firm.
"With more fund management firms issuing new stock investment fund products, the market is expected to pick up its strength in the medium term on strong fund inflows," Zhang added.
After dipping in and out of the red, Tokyo closed down 0.47 percent on Wednesday and Hong Kong lost 0.73 percent, while Sydney ended up 0.93 percent.
Bell Potter senior adviser Stuart Smith said the Australian market had responded positively to the central bank's decision to leave interest rates on hold at 6.25 percent -- despite better-than-expected December quarter growth figures -- and to a strong lead from Wall Street.
"Confidence has brought sellers back to being buyers," Smith said.
Elsewhere in the region, shares were up 0.57 percent in Seoul, 0.40 percent in Taipei and 0.72 percent in Wellington.
Jakarta was up 0.51 percent, Singapore added 1.02 percent and Kuala Lumpur gained 2.16 percent in late trade while Manila finished up 3.03 percent
Morgan Stanley Asian equity strategist Malcolm Wood said he viewed the recent market declines as a "buy on the dip" opportunity.
"We conclude that Asia-Pacific markets remain attractive, given positive liquidity conditions, limited exogenous risks from the US or oil, and reasonable valuations," he wrote in a note to clients from Hong Kong.
But others said it would take time for investor confidence to return after the plunges of last week.
Ben Kwong, research head at KGI Asia in Hong Kong, cautioned that further gains were likely to be limited for now.
"The market was firmer due mainly to continued bargain-hunting after the 2,000-point fall since last week but I don't expect very sharp upside momentum as investors are cautious amid the volatility," Kwong said.
US Treasury Secretary Henry Paulson maintained his upbeat outlook for the world economy during his tour of Asia, saying he feels "very comfortable" with the strength of the world economy.
"What I have been making very clear is that we have a very strong global economy," he told reporters during a brief visit to South Korea en route to China where he is expected to press for further economic reforms.