Asian stock markets moved higher Thursday, a day after Greece approved a harsh austerity package to prevent the heavily indebted country from a massive default.
Oil prices rose above $95 a barrel while the dollar sank against the euro and the yen.
Japan's Nikkei 225 was virtually unchanged at 9,796.14. Gains were countered by a drop in export shares hurt by a strengthening yen. Honda Motor Corp. was 1.1 percent down, while camera maker Canon Inc. lost 0.4 percent and consumer electronics giant Panasonic Corp. lost 0.5 percent.
South Korea's Kospi rose 0.2 percent to 2,099.97, while Hong Kong's Hang Seng was 1.6 percent higher to 22,404.87. Australia's S&P/ASX 200 added 1.3 percent to 4,589.70.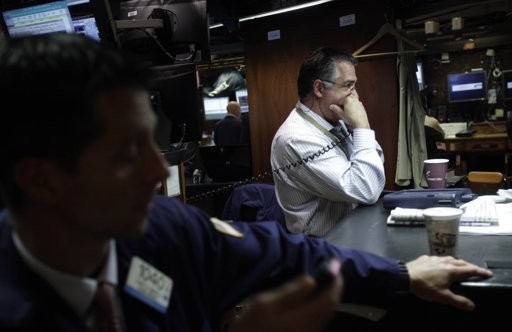 In this June 27, 2011 photo, traders work on the floor at the New York Stock Exchange in New York.
Banking shares in Asia followed their U.S. counterparts higher. Hong Kong-listed Agricultural Bank of China, the country's biggest rural lender, rose 2.3 percent. Bank of China Ltd. gained 1.6 percent. National Australia Bank Ltd. was 1.4 percent higher and Mitsubishi UFJ Financial Group Inc. jumped 2.1 percent.
Oil stocks also posted gains as crude prices marched upward. Hong Kong-listed PetroChina Co. Ltd., the publicly traded unit of China's biggest oil and gas company, rose 1.3 percent.
On Wednesday, Greece approved more austerity measures needed to avert default next month in a vote that calmed markets but triggered a second day of riots that left dozens injured.
The passage of the bill was a decisive step for the country to get the next batch of bailout loans from international creditors and was met with a huge sigh of relief in markets. A Greek default could potentially trigger a banking crisis and turmoil in global markets. Another bill has to be passed Thursday for the government to secure the money.
On Wall Street, stocks closed higher for the third day in a row Wednesday. The Dow Jones industrial average rose 0.6 percent to close at 12,261.42. The Standard & Poor's 500 index rose 0.8 percent to 1,307.41. The Nasdaq composite rose 0.4 percent, to 2,740.49.
Financial companies in the S&P 500 rose 2.1 percent after Bank of America Corp. reached an $8.5 billion settlement with investors over claims it sold them bad loans. The investors said Bank of America violated agreements with them by selling them low-quality mortgage-backed securities that lost value when the housing market collapsed. Much of the losses stem from BofA's 2008 purchase of the troubled lender Countrywide.
Bank stocks also got a lift from news that the Federal Reserve plans to limit the fees banks can charge retailers for swiping debit cards to 21 cents. That's higher than the 12 cents the Fed first proposed.
Benchmark crude for August delivery was 22 cents higher at $94.99 per barrel on the New York Mercantile Exchange. The contract settled at $94.77 per barrel on the Nymex on Wednesday.
The euro rose to $1.4512 from $1.4428 late Wednesday. The dollar weakened to 80.40 yen from 80.91 yen.