Asian stocks tumbled Monday after a breathtaking surge in oil prices and shock jump in US unemployment sent Wall Street spinning and fanned fears of sharply slower economic growth.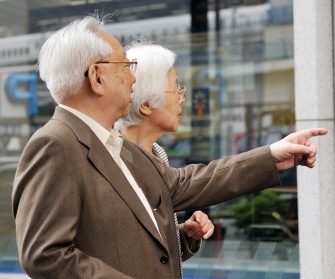 Elderly couple gaze at a share prices board in Tokyo on June 9, 2008 (AFP Photo)
Japanese shares slid two percent after a dizzying three-percent plunge in the US on Friday, when oil prices rocketed the most ever in a single day to close nearly 11 dollars up at record levels around 139 dollars per barrel.
India slumped over 4.5 percent by noon Monday, Taiwan closed down 1.8 percent and South Korea ended more than one percent in the red, while Singapore was trading over two percent lower.
"Asian markets are certainly in for a heavy pounding over the next few weeks," the respected Shanghai-based independent economist Andy Xie told AFP.
Investors were also coming to terms with Friday's half-point jump in US unemployment to 5.5 percent for May, which stoked fears of a recession in the world's biggest economy.
Investors worry that sky-high crude oil costs will bleed money from consumers, squeeze business profits and force central banks to raise borrowing costs in a bid to tame inflation, which has taken off in many countries.
That could hit economic growth even as the world economy struggles after the default crisis among subprime -- or riskier -- US mortgages, which has led to a global credit crunch and threatens losses approaching one trillion dollars.
Meanwhile, New Zealand closed down 1.45 percent, Indonesia was around one percent lower and Malaysia fell 1.6 percent.
Indonesia and Malaysia are among a batch of Asian nations that has sharply raised fuel prices recently as multi-billion-dollar government energy subsidies become unaffordable across the region.
The pressure from the soaring cost of black gold has led to mounting calls for quick action to tame oil prices, which fell Monday but were still at around 137 dollars.
On Sunday, eleven nations that guzzle nearly two-thirds of the world's energy called at a G8 meeting for an urgent hike in global oil production as host Japan warned the world could plunge into recession.
Experts worry that rising inflation has become a key problem in Asia, which is also battling soaring food prices. They fear that predictions of robust regional economic growth might have to be revised if the problem worsens.
There are also lingering concerns that Asia remains export-dependent and could suffer as the US economic slowdown curbs international shipments, including from China.
was shut Monday for a holiday, along with Hong Kong, Australia and the Philippines. Investors were anxious about how those markets would perform when they re-open Tuesday.
European equities edged lower in early trade Monday following the falls in Asia. The British stock market was down 0.07 percent, French shares fell 0.33 percent and the German bourse slipped 0.20 percent.