BEJI, Indonesia, Aug 8, 2009 (AFP) - Alleged Asian terror mastermind Noordin Mohammed Top was reportedly killed Saturday in a hail of gunfire at his Indonesian hideout after a 17-hour siege by police special forces.
Local television station Metro TV said he had been killed in the operation but police have not confirmed the report, saying only they believed he was one of around four occupants of the remote farmhouse in Central Java.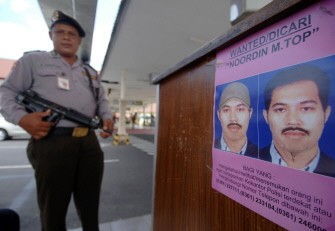 An Indonesian policeman stands next to a poster of Malaysian Islamist Noordin Mohammed Top at Denpasar airport on August 8, 2009 (AFP photo)
An AFP reporter said he saw at least three bodies taken from the house and police reportedly shook hands and celebrated as they emerged from their final assault on the property, after hours of heavy gunfire and explosions.
Police also announced the arrest of five of Noordin's alleged accomplices and the death of two men recruited to be suicide bombers for Noordin's network during a separate raid on a house outside Jakarta.
Elite police carrying assault rifles entered the hideout in Central Java after it had been besieged as part of investigations into last month's twin suicide bombings on hotels in Jakarta which killed seven people.
Malaysian-born Noordin, 40, is believed to have masterminded that attack as well as three other suicide bombings against Western targets in Indonesia which left some 40 people dead and hundreds injured.
Heavily armed special forces, backed by armoured vehicles, stormed the squat, single-storey hideout on the edge of a vast rice paddy shortly before 10:00 am (0300 GMT).
Police surrounded the house Friday afternoon after arresting two people at a nearby market who were reported to be relatives of the tenant of the property.
The raid was the culmination of a series of arrests and operations designed to disrupt Noordin's network and track down the country's most wanted man in the aftermath of the July 17 attacks on the JW Marriott and Ritz-Carlton hotels.
Indonesian President Susilo Bambang Yudhoyono thanked police but made no comment on Noordin's reported demise.
"On behalf of the state, the government and the people of Indonesia I want to say thank you and show our highest respect to the police for their brilliant job," he told reporters at the state palace in Jakarta.
National police chief Bambang Hendarso Danuri said the two would-be suicide bombers killed near Jakarta earlier Saturday were weeks away from launching a car bomb attack.
The two men were shot dead as they were about to detonate handmade bombs during the raid, which uncovered a cache of explosive material and a car rigged as a bomb.
The booby-trapped house in suburban Bekasi was being used as a base by a "cell of NMT," Danuri said, referring to Noordin, and was packed with enough explosive material to make a 100 kilogramme bomb.
"We had to shoot them because at the time of the raid they had hand-held bombs that were about to be thrown at the police," he said, identifying the suspects as Air Setiawan and Eko Gepeng.
"They were would-be bridegrooms (suicide bombers) with special targets for attacks to be carried out two weeks from now... This place was a cell of NMT."
The would-be bombers had been "accomplices" in the Australian embassy attack of 2004, when a massive suicide car bomb was detonated outside the embassy in central Jakarta, killing 10 people and wounding scores more, he said.
"There was also a vehicle that had been prepared as a mobile bomb to be used in the next two weeks. I can't disclose the target right now," he told reporters.
He said three men had also been arrested in relation to last month's hotel attacks, including one named Amir Abdillah who allegedly booked the Marriott hotel room used by the bombers in the days before the blasts.
Noordin is one of the most wanted alleged terrorists in Asia and leads a splinter group of the Jemaah Islamiyah (JI) terror network blamed for the 2002 bombings of nightspots on Bali, which killed 202 people, mainly tourists.
He is accused of masterminding suicide bombings of the JW Marriott in Jakarta in 2003, the Australian embassy in 2004 and tourist restaurants in Bali in 2005.
An Internet blog purportedly signed by Noordin has claimed responsibility for the hotel attacks, but the authenticity of the statement has not been confirmed.
Police have come close to arresting Noordin several times in the past and have captured or killed some of his closest associates during a six-year manhunt.