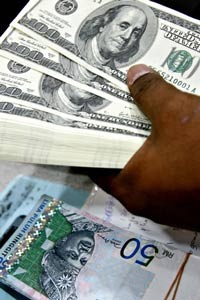 Malaysia is unconcerned at its strengthening (AFP Photo)
BEIJING: China's inflation stayed low in April, while the trade surplus more than doubled, showing how hard it is to make the economy depend less on exports and rely more on consumption, analysts said.
TOKYO: The dollar fell below 110 yen briefly in Asian trade for the first time for eight months after sluggish US retail sales data reignited talk of a pause in US interest rate rises, dealers said.
KUALA LUMPUR: Malaysia is unconcerned at its strengthening currency, reflecting its flexible policy stance and with no indications yet that it has affected the country's exports or growth.
BANGKOK: Flag carrier Thai Airways International said its net profit in the second quarter surged 77.7 percent year-on-year on a strong recovery in tourism following the December 2004 tsunami disaster.
MANILA: Philippine conglomerate Ayala Corp posted a 23 percent rise in net profit for the three months to March amid a boost in its banking and telecom businesses.
WELLINGTON: Air New Zealand said it would become the first airline to buy a longer version of Boeing's 787 Dreamliner withy the first of the new aircraft scheduled to go into service in December, 2010.
SEOUL: A court has rejected a request by prosecutors to issue an arrest warrant for the head of US investment fund Lone Star's office in South Korea, Yoo Hoe-Won, 56, court officials said.
SINGAPORE: Oil prices fell in Asian trade on profit-taking after the latest spike overnight following news of fresh abductions of oil workers in Nigeria, dealers said.
MANILA: Leading Philippine oil refiner Petron Corp posted a 16 percent year-on-year increase in net income to 1.01 billion pesos (19.60 million dollars) in the three months to March, the company said.
HANOI: US defence giant Lockheed Martin will build Viet Nam's first satellite, a Vietnamese official said, in the latest victory for American businesses in the nation.