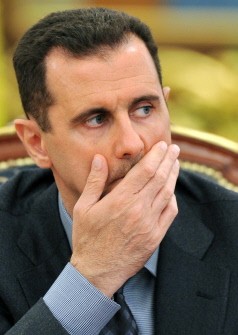 AFP - File picture dated December 3, 2010 shows Syria's president Bashar al-Assad gesturing during a press conference after talks with Ukraine's President Viktor Yanukovych in Kiev
DAMASCUS, Aug 4, 2011 (AFP) - Syria's president on Thursday decreed a law allowing opposition political parties, state media said after the United Nations condemned his regime's deadly crackdown on democracy protests.
"President Bashar al-Assad on Thursday issued Legislative Decree No. 100 for 2011 on Parties Law and Legislative Decree No. 101 for 2011 on General Election Law," the official SANA news agency said in a brief report.
The law allows political parties to be established and function alongside Assad's Baath party, in power since 1963 with the constitutional status of "the leader of state and society."
Political pluralism has been at the forefront of demands by pro-reform dissidents who since March 15 have been taking to the streets across Syria almost daily to call for greater freedoms.
Assad's regime has sought to crush the movement with brutal force, killing more than 1,600 civilians and arresting thousands, according to human rights activists.
In the latest bloodshed, at least four people were killed and dozens wounded on Wednesday when security forces opened fire on protesters in Damascus, near Daraa in the south and Palmyra in central Syria, an activist said.
Demonstrators have vowed to protest every night of Ramadan following evening prayers despite the assault on Hama and the killing of some 120 people across the country on the eve of the Muslim holy month.
Thursday's presidential decree comes after the Syrian government adopted a draft law on multiple political organisations last month.
At the time, SANA reported the draft legislation was "aimed at enriching political life, creating a new dynamic and allowing for a change in political power."
"The bill stipulates the essential objectives and principles governing the activities of parties, conditions for their establishment ... and rules relating to their financing, their rights and their obligations," SANA said.
It prohibits parties founded on the basis "of religion, tribal affiliation, regional interests; professional organisations as well as parties which discriminate on the basis of race, sex or colour," the report said.
The presidential decree, which means the law can take effect immediately without parliament's approval, came only hours after the UN Security Council stepped up pressure on Syria's rulers.
The council condemned the deadly crackdown and said those responsible should be held accountable.
It was unable to agree on a resolution, however, and settled on a less-binding statement condemning "the widespread violations of human rights and the use of force against civilians by the Syrian authorities."
"Those responsible for the violence should be held accountable," it said, in its first pronouncement on the Syrian crisis since the protests began.
The UN statement came as tens of thousands of Syrian protesters again took to the streets on Wednesday, despite a tank assault on the flashpoint protest city of Hama.
Five hundred families had streamed out of Hama following the massive tank-backed assault that killed at least 95 people there on Sunday, said Rami Abdel Rahman, the head of the Syrian Observatory for Human Rights.
On Wednesday tanks had taken up positions across the town and shelling could still be heard in several neighborhoods, another activist told AFP, saying it sounded like "open warfare."