Astronauts from Russia, Japan and the United States blast off to the International Space Station on Monday, bringing with them promises of 'space sushi' and 'tweets' from the cosmos.
The astronauts will lift off aboard a Russian Soyuz rocket at 4:00 am (2200 GMT Sunday) from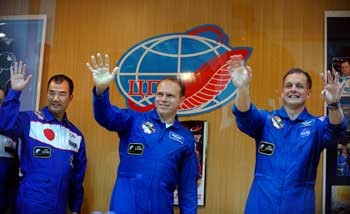 US astronaut Timothy J. Creamer (R), Russian cosmonaut Oleg Kotov (C) and Japan Aerospace Exploration Agency astronaut Soichi Noguchi (L) waves hands during press conference at Baikonur cosmodrome on December 19, 2009. The International Space Station (ISS) crew is due to blast off to the International Space Station from Baikonur cosmodrome onboard the Soyuz spacecraft on December 21. (AFP Photo)
Russia's historic Baikonur cosmodrome on the Kazakh steppe, the same location from which Yuri Gagarin first rocketed into the cosmos.
They will hurtle into low Earth orbit and then make a gradual ascent to the station over two days, docking on Wednesday to bring a dose of holiday cheer to the station's current bare bones crew just two days before Christmas.
Although their mission is to continue the station's high-tech work, the crew seemed most animated by Japanese crew member Soichi Naguchi's promise of sushi and US astronaut Timothy Creamer's plans to update his Twitter page from the ISS.
"Yes I plan to be twittering from space. I tried to mention that announcement a couple of days ago in twitter version," Creamer told reporters during a press conference.
"I thought that if I could give you status of what I am doing -- what we're hoping for, what we're looking forward to seeing -- those would be good little teasers."
Twitter, a service which allows users to pepper one another with messages of 140 characters or less and provide links to the Web, exploded from relative obscurity to become one of the most talked-about web phenomena of 2009.
Creamer, who holds a masters degree in physics from the Massachusetts Institute of Technology and is a self-described "tech guy", has twittered regularly during the run-up to the launch.
Equally tantalizing was the promise by Naguchi, the first Japanese astronaut to launch to the ISS from Baikonur, to prepare fresh sushi for his crew mates during their long sojourn aboard the space station.
"We had a training in Japan this summer and I was stupid enough to train them to be sushi lovers," he said with a laugh.
"(Now) both of my crew mates really love sushi so I am going to make for them a couple of different flavours of sushi," he added to smiles and nods from his fellow astronauts.
The ISS, which orbits 350 kilometres (220 miles) above Earth, is a sophisticated platform for scientific experiments, helping test the effects of long-term space travel on humans, a must for any trip to distant Mars.
A huge new solar array was installed earlier this year to provide more power which, together with a newly installed European laboratory and a hi-tech Japanese lab, Kibo, has significantly boosted the station's capabilities.
The Soyuz is set to become the sole means of reaching the ISS for a few years as the United States is due to take its aging shuttles out of commission in 2010.
Creamer drew attention to the ISS' role in preparing astronauts for the future of space exploration, with its long voyages and physical travails.
"We are setting the stage to do the operations for the long-term to go farther away. This is an important step on our way to the Moon, to Mars and beyond," he said.
But playing on the jovial mood, Creamer prefaced his description of the mission's technical aspects with a nod to the holiday season.
"Almost immediately the first thing we're going to do when we get into orbit is see Santa Claus on his test flight for this year's Christmas delivery and that just starts off the rest of the expedition," he said.