Fidel Castro marked his 83rd birthday with a bleak warning over US handling of the global economic crisis, as photos emerged of the Cuban former president apparently in better health.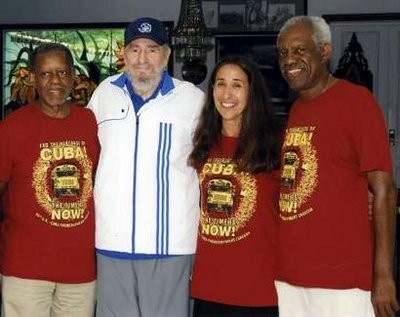 Cuba's former leader Fidel Castro poses with U.S. Reverend Lucius Walker, founder and executive director of Pastors for Peace, Ellen Bernstein and U.S Rev.Tome Smith during their private meeting in Havana in this picture taken August 1, 2009 and released August 13, 2009.
The two images surfaced as Cuba's government-run newspapers ran a signed opinion article calling on Cubans to "continue onward" in the face of world economic turmoil and misguided US policies.
"The quite general tendency of US politicians is to believe that as soon as the banks free-up enough dollars to grease the machinery of the productive apparatus, everything will march on to an idyllic and not-yet- dreamed-of world," Castro said.
"Some people talk about the economic crisis being the end of imperialism, maybe one could ask whether it does not mean something worse for our species," he added.
"In my opinion, the best will always be to have a just cause to defend and the hope to continue onward."
In the latest in a series attempts to dispel any rumors, two recent images emerged showing Castro flanked by a group of US clerics belonging to the Pastors for Peace organization.
Wearing a white track suit, dark t-shirt and a blue cap, Castro seemed to have gained weight since previous pictures. In one, a faint smile could be seen beneath his thinning gray beard.
Although the photos are undated, the Pastors for Peace group was in Cuba from July 24 to August 3 to deliver humanitarian aid to the island, in defiance of the US trade embargo, in place since 1962.
One of the group, Reverend Lucius Walker, who has long campaigned for an end to sanctions against the island, said that during the multi-hour meeting, Castro appeared "strong" and "healthy."
"He was standing tall and strong, looking as healthily as I hope is portrayed in the pictures," Walker told AFP from New York.
According to Walker, Castro and his wife hosted the group at their home in Havana on August 2, with the former leader boasting about a long walk taken the day before and detailing his healthy new diet based on fruit and vegetables.
"He still loves yogurt," said Walker, adding that the veteran leader mentioned he had trouble walking on grass because of its unevenness, and preferred flat surfaces.
Walker said Castro, speaking through a translator, called for a "new day in US-Cuba relations" but "noted that he knows Obama has his hands full right now," referring to the US leader's heavy legislative agenda.
During a three-hour meeting with Raul Castro, Walker said the president had noted recent US-Cuba talks on immigration and expressed his wish to go beyond a "significant first bilateral meeting."
Although Fidel is no longer in office, his birthday was still noted on the island, including through the opening an exhibit of 83 Castro pictures, including recent ones.
The exhibit centerpiece is a one meter (3.2 feet) high print of a photo that Castro's son Alex, 46, told AFP he took a month and a half ago.
Other pictures also taken by Alex Castro show the Cuban ex-president with leftist Venezuelan President Hugo Chavez, and Vietnamese leader Nong Duc Manh.
The ex-leader makes no reference in the article to his birthday or the various cultural activities in his honor being held across the island nation of more than 11 million.