CAIRO (AFP) – At least 1,000 people have been detained in Egypt since Tuesday, in the most serious protests of President Hosni Mubarak's 30-year-rule, a security official said on Thursday, as activists vowed to continue rallying.
"At least 1,000 people have been detained around the country since the demonstrations started," on Tuesday, the official told AFP.
Security was out in force in downtown Cairo after two days of unprecedented anti-government protests left six dead and scores injured.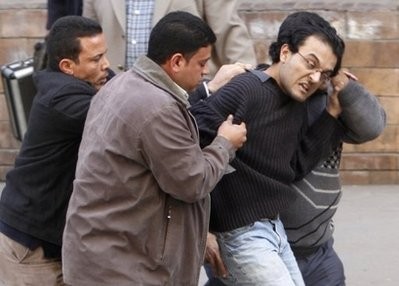 AFP - Egyptian police arrest a demonstrator in Cairo.
The pro-democracy April 6 Movement, the driving force behind the rallies, has called on Egyptians to keep going.
Thursday "will not be a holiday... street action will continue," the group said on its Facebook page.
The demonstrations which kicked off on Tuesday, inspired by an uprising in Tunisia, have been the most significant since bread riots shook the country in 1977, four years before Mubarak came to power.
Cairo has come under international pressure to listen to demonstrators, and all parties have been urged to exercise restraint after police used tear gas and rubber bullets against protesters who responded by throwing rocks.