A suicide bombing targeting former Pakistan prime minister Benazir Bhutto killed at least 125 people, turning her emotional homecoming parade after eight years in exile into a scene of carnage Friday.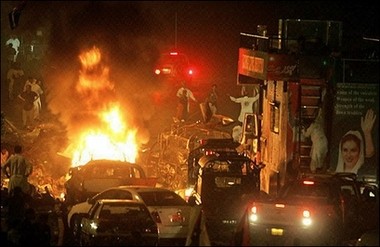 Fire erupts from a car in front of a vehicle carrying of former Pakistani prime minister Benazir Bhutto after bomb explosion in Karachi.(AFP Photo)
Bhutto was unhurt, escaping with her life as the blast ripped through the police escort for the parade in Karachi whose streets had been thronged with hundreds of thousands of her supporters.
It was the worst suicide attack in Pakistan's history, casting an immediate shadow over hopes that her return with the approval of military ruler Pervez Musharraf might bring an end to months of political turmoil.
Blood and body parts were scattered widely across the scene and doctors at city hospitals struggled to keep pace.
"It was like walking through an abattoir," an AFP photographer who had been following the parade said. "Some people were lying around intact, others were completely dismembered."
Hospital officials said nearly 400 people were injured.
The attack came hours after Bhutto had flown in from Dubai, teary-eyed as she set foot on Pakistani soil for the first time since 1999, having shrugged off warnings that Al-Qaeda and Taliban militants would try to kill her.
"It was an act of terrorism targeting Benazir Bhutto and aimed at sabotaging the democratic process," Interior Minister Aftab Sherpao told AFP.
Sherpao did not say who might be responsible, while Bhutto's husband Asif Ali Zardari alleged a Pakistani intelligence agency was behind the attack.
The city's police chief, Azhar Farooqi, said a grenade was thrown into the crowd just before a suicide bomber blew himself up.
Bhutto returned from self-imposed exile after Musharraf -- the head of the military as well as president -- dropped corruption charges against her in the hope her popularity could shore up his grip on power.
She has vowed to lead her party in general elections due by January, aimed at restoring Pakistan to civilian rule.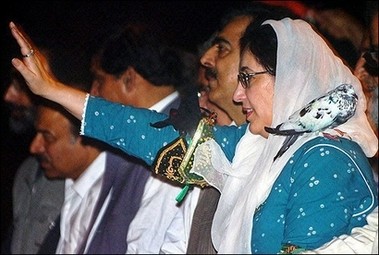 A pigeon sits on the shoulder of former Pakistani Premier Benazir Bhutto as she waves to supporters while taking part in a procession with party leaders upon her arrival in Karachi.(AFP Photo)
She reportedly had worked out a power-sharing deal with Musharraf, but his re-election as president earlier this month is being challenged in the courts.
Musharraf condemned the attack in the "strongest possible terms." He said those responsible would get "exemplary punishment" and appealed for calm.
Bhutto had spent hours on top of a specially modified lorry, waving to the crowds that had turned out to welcome her home in Karachi, Pakistan's largest city.
She had just climbed down into the interior when the explosions occurred, Karachi policeman Falak Ahmad told AFP.
Bhutto was rushed to her family home, party officials said. She cancelled plans to address supporters at a rally Friday.
She had earlier insisted she was unconcerned about threats in revenge for her vow to crack down on Muslim extremists in the nuclear-armed nation of 160 million people.
"We are still fighting a dictatorship," Bhutto -- the first woman ever to lead an Islamic nation -- said on arrival. "We want to isolate extremists and build a better Pakistan."
Her brother was shot dead in Karachi in 1996 and her father was hanged in 1979 by military dictator Zia-ul-Haq.
The United States, which sees Pakistan as a key ally in its "war on terror," led global condemnation.
"The United States condemns the violent attack in Pakistan and mourns the loss of innocent life there," White House national security spokesman Gordon Johndroe said.
Australia said the attack bore the hallmarks of Al-Qaeda. "It is a reminder of the evil of Al-Qaeda," Prime Minister John Howard said.
"It is a reminder of how important it is not to concede a victory to them in Iraq or in Afghanistan."
UN Secretary General Ban Ki-moon denounced the attack and said he "trusts that all political forces will act together to strengthen national unity."