At least 149 people were killed and scores injured on Tuesday in a frenzied stampede at a Hindu temple in western India, police said.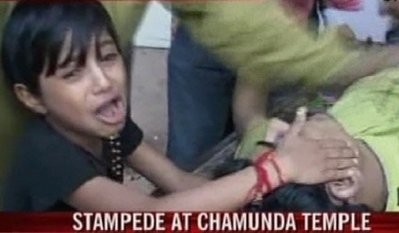 In this image taken from NDTV, an Indian child wails as she attempts to revive a woman outside the Chamunda temple on the outskirts of Jodhpur. At least 149 people were killed and scores more injured in a massive stampede at a Hindu temple in the western state of Rajasthan.(AFP/NDTV)
The disaster occurred as more than 25,000 worshippers clambered to reach the 15th-century Chamunda Devi temple in the hill-top Mehrangarh Fort in Jodhpur in the tourist state of Rajasthan.
The stampede came at the start of Navaratri, a nine-day Hindu festival which is one of the most important in the Hindu calendar and when crowds are particularly large.
"We can now say 149 people have died and around 60 are injured," Rajasthan's Home Secretary S.N. Thanvi told AFP.
Officials said the stampede appeared to have started when a wall along the narrow path leading up to the temple collapsed, killing several people and sparking widespread panic.
People were trampled and suffocated to death.
"The stampede began when people lost their footing and set off a chain reaction," Thanvi said.
Officials said many of the injured were seriously hurt. After the stampede, devotees carried limp bodies to police vehicles, while others desperately tried to resuscitate victims.
Temple stampedes are common during religious festivities in India, where crowd control is often rudimentary or non-existent.
"I was to join my friend this morning to offer prayers but I was a little late," recalled a dazed Jodhpur university student named Manish.
"When I arrived, I saw chaos, people rushing around the place. I looked for my friend and after a while found him. He was unconscious but without serious injuries," Manish told AFP.
He said the path leading up to the temple shrine was narrow with many people trying to get in at the time of the incident, as the auspicious moment for offering prayers was about to begin.
Outside the state-run Mathura Das Mathur hospital, relatives scrambled to look through lists of names of those admitted to the emergency room, witnesses said.
Scenes inside were equally chaotic, with doctors struggling to cope with the number of injured, an AFP reporter at the hospital said.
"We were standing in line to get inside the temple when suddenly there was a commotion," said factory worker Ajay, who was brought to hospital unconscious.
"I was pushed onto the ground. Before I could get up people were running over me, stamping over me. I woke up here," he said, pointing to his hospital bed.
Rajasthan Chief Minister Vasundhra Raje, who visited the temple and the injured, ordered a probe into the disaster.
She also announced a donation of 200,000 rupees (4,300 dollars) for the kin of the dead and 50,000 rupees to the injured.
The stampede is the fourth such incident in India this year.
In August, around 150 Hindu worshippers died in a stampede in the northern mountainous state of Himachal Pradesh. That was sparked by rumours of an impending landslide at a hill-top Hindu temple.
Six people died in a similar accident at a popular Hindu festival in July in the eastern state of Orissa, where about one million people had gathered in the town of Puri for an annual celebration.
In March, nine people were killed and many more injured at a religious gathering in central India when a railing broke at the temple premises, leading to a stampede among 100,000 devotees.
In one of India's deadliest ever stampedes, 257 people were killed during a Hindu pilgrimage in western Maharashtra state in January 2005.