An explosion believed to be linked to rivalry between two university fraternities injured at least 15 people near the Philippine presidential palace in Manila on Tuesday, officials said.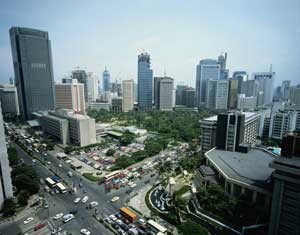 Philippines's capital Manila
Police said the blast outside La Consolacion College, about 500 metres (550 yards) from the Malacanang palace, was apparently unrelated to President Gloria Arroyo's political problems.
Arroyo, who faces calls to resign over corruption allegations, was not in the palace at the time, chief of the presidential guards Brigadier General Romeo Prestoza said.
Manila police chief Geary Barias said two members of a university fraternity have been taken in for questioning, although they were not yet being treated as suspects.
Ordnance experts found fragments of a home-made pipe bomb at the site, which has been cordoned off. The explosion also partially damaged a parked van.
"It looks like a fraternity war, rivalry among a group of students, because of what we found in the area," Barias said.
A group of young men wearing red shirts and brown caps were seen running away moments before the blast, he said, quoting witnesses.
One student was killed and another injured in a gang attack last weekend, which was said to be connected to a fraternity war at the same university.
Police could not say whether the two incidents were related.