A tsunami that wiped out entire villages in Samoa has killed at least 155 people in the South Pacific, officials said Thursday, adding the toll could rise to as much as 190.
Some 115 people have been confirmed killed in Samoa, which was worst hit by the disaster, according to Guretti Wulf of the Samoa Red Cross. Another 31 are dead in nearby American Samoa and nine were killed in Tonga, officials said.
"There's still (people) missing," she told AFP. "They are still looking, searching for them. I don't think anybody's going to be found alive at this point." The official toll stood at 110 on Wednesday.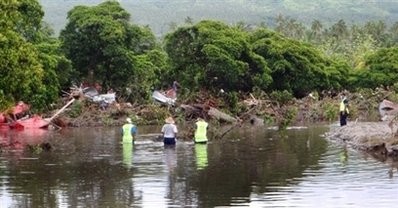 Rescuers are seen wading through water looking for bodies after a devastating tsunami hit the south coast of Samoa.
But Samoan disaster officials said they feared that up to 150 people may have died, a toll that would bring the total number of dead in the region to 190.
The toll is expected to rise as more bodies are being recovered and some dead were buried before they could be counted, an official told AFP.Related article: Relief efforts
"The deaths are probably between 120 and 150 in reality, it's definitely more than the official toll," a senior figure in the disaster management office told AFP on condition on anonymity.
"We know there will be more because recovery operations are still bringing in bodies and some villagers have buried their relatives without recording their deaths at the hospital," he said.
An 8.0 earthquake churned up walls of water measuring between three and 7.5 metres (10 and 25 feet) that thundered down on small coastal settlements on Tuesday, smashing them to bits.
Officials in American Samoa, about 100 kilometres (60 miles) from Samoa, said 31 had been killed in the remote US outpost, but that a 12-year-old Korean girl was missing following the disaster.
In Tonga, a government spokesman said two more people had been confirmed dead after the tsunami hit its small northern island of Niuatoputapu, bringing the total number of deaths there to nine.
"There are nine people confirmed dead," he told AFP. "We are confident that everyone has been accounted for," he added.
More than half of homes on the island, which has a population of about 950, were damaged by the waves with many washed away, he said.
A powerful 6.3-magnitude earthquake struck in seas off Tonga and the Samoan islands on Friday but no immediate tsunami alert was issued by the Pacific Tsunami Warning Center in Hawaii and Australian experts said the tremor was likely too small to create another deadly wave.
"I don't think there is a particular tsunami danger from that earthquake," Geoscience Australia seismologist Phil Cummins told AFP.
The US Geological Survey said the earthquake, at a shallow depth of just 10 kilometres (six miles), struck 242 kilometres (151 miles) off Tonga's northwest island of Neiafu.
The epicentre was 377 kilometres from American Samoa capital Pago Pago, which was hard-hit by this week's 8.0 earthquake and tsunami.
Dozens of aftershocks have rocked the region since giant waves smashed the South Pacific islands on Wednesday.