CHICAGO, June 11, 2010 (AFP) - Flash floods swept away entire campsites Friday in a remote forest in the southern US state of Arkansas, drowning at least 16 people as they slept and leaving dozens more missing.
Survivors described a torrent of water rampaging through the Ouachita National Forest, catching campers and families vacationing in hillside cabins completely unaware in the dead of night.

"What is being reported right now from the scene is that there are probably about 30 people still missing," Chad Stover from the Arkansas department of emergency management, told AFP, putting the death toll at 16.
The exact number of missing was impossible to determine as the Albert Pike campground, which bore the brunt of the massive surge of water, had no registration system to show how many campers were present.

Other locations had registrations systems but the records were swept away.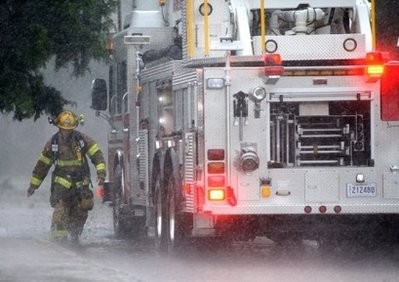 File picture shows firefighters responding to a call during a storm. AFP photo
Arkansas Governor Mike Beebe said rainwater funneled down hillsides into the valleys where many people were camping at the beginning of the busy summer vacation season, raising the river level before dawn from one meter (three feet) to seven meters in about three hours.
"So it was just a horrible convergence of a number of events. And as a result of it, you see this huge loss of life," Beebe told CNN.
Three helicopters were scrambled to help rescuers on foot and horseback as they hunted for survivors.
Officials brought a refrigerated truck to the forest to act as a temporary morgue, while at least 30 people had been rescued by early afternoon.
US President Barack Obama ordered federal emergency officials to be on call to help state authorities if needed, and along with the first lady issued a special message to victims.
"Michelle and I would like to extend heartfelt condolences to the families and friends of those who lost their lives during this horrible flash flood, and we offer our prayers for those who anxiously await news of loved ones still missing," Obama said.
The American Red Cross mobilized disaster teams to the southern edge of the park, close to the Albert Pike campground where many visitors were staying.
"We have mental health volunteers who are counseling the families, and tending to their emotional needs. These people have lost everything. It's all been washed away," said spokeswoman Brigette Williams.
Williams said 200 people, maybe more, had been displaced. The American Red Cross was moving the survivors to a temporary shelter in a church in a town called Lodi, south of the forest.
"We've got nurses there. They can get food there. We'll take care of their immediate needs."
The National Weather Service had issued a flash flood alert earlier Thursday, but the graver flash flood warning did not go out until 2:00 am on Friday morning.
"The Little Missouri River crested first about 5:30 am and the Caddo about 8:00 am," said Tabitha Clarke, a hydrologist with the service in Little Rock, Arkansas.
Survivors had incredible stories to tell of how they escaped the deadly torrent or stepped in to help others.
Local resident Janice McRae described how she and her husband rescued two little boys from the roof of a cabin and plucked the children's grandparents alive from the raging waters below.
"We were in bed asleep at about 2:30," Mcrae told CNN. "The call came in from one of our cabin owners saying that the water was coming up in his cabin.
"So we jumped out of bed and got dressed and went down there. And we rescued two little kids, two little boys off of that cabin right there that's on TV right now," she said, watching footage of the washed out ruins as she spoke.
Chad Banks, who was camping with four friends when the water started pouring into their tent around 11:00 pm Thursday, said the power and the speed of the flood was unbelievable.
"All five of us got into the truck. In 15 or 20 minutes the water was up above my truck. It started carrying me downstream."
Banks said he managed to get some traction and drove the truck about 50 feet (15 meters) up the hillside, but the water kept rising over the vehicle.
"We abandoned the truck and tied ourselves to trees and waited for the water to go down. It was still waist deep in daylight but then we could at least see to find our way out," he said. "We barely made it out."
Rescuers face an uphill battle because of the remote and rugged terrain, the lack of cell phone reception, and no hard data on the number of people in the park at the time of the floods.
The Ouachita National Forest sprawls over 1.8 million acres (700,000 hectares) of western Arkansas and southeastern Oklahoma.