The Indonesian navy scoured the Bay of Jakarta on Friday for at least 17 people still missing after a blaze on a ferry that killed 16 passengers.
More than 200 passengers and crew leapt into the water after the blaze raged out of control early Thursday as the vessel was sailing out of the Indonesian capital's port.
The Antara news agency and Indonesian television reported that five navy ships were keeping up the search after the latest in a series of Indonesian transport accidents, which have killed more than 450 people in two months.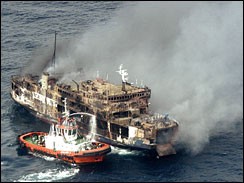 This is an aerial view of the burning passenger and car ferry Levina 1, Thursday, Feb. 22, 2007
A ferry with around 600 passengers sank in rough weather off the north coast of Java island on December 29 with more than 300 people still missing and presumed dead.
Lax enforcement of safety regulations, poor maintenance and a lack of investment in transport infrastructure have been blamed for the air, sea and rail accidents, which have become a regular occurrence.
Official accounts differed over how many people were aboard the "Levina I", a large car ferry that erupted in fire in several locations including the car deck. Flames scorched the superstructure and burnt off most of the paint.
Dozens of survivors suffered burns and other injuries.
The transport ministry had said 16 people were killed, 274 were rescued and 17 were still missing.
"Sixteen bodies were brought here. Three of them are yet to be claimed by their families," Munim Idris, a forensic doctor at Jakarta's main hospital, told AFP. "They all died because of drowning."
Ferries are a crucial link between the archipelago nation's 17,000 islands and frequently carry more people than officially acknowledged.