At least 24 people were killed in violence across Syria on Sunday, reports said as the visiting Red Cross chief sought access to those detained in more than five months of anti-regime protests.
As more bloodletting gripped the country, Arab League chief Nabil al-Arabi said Syria has agreed to host him for a visit, to help push for a peaceful outcome to the crisis.
But Russian Foreign Minister Sergei Lavrov warned that the five-nation BRICS group of emerging powers, who have criticised Western sanctions on Syria, are determined not to allow a Libyan-style solution in that country.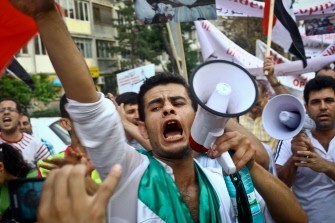 Members of the Syrian community in Bucharest protest against Syrian President Bashar al-Assad, on September 2, 2011, in Bucharest, Romania
Activists said security forces cracking down on democracy protesters killed 12 people on Sunday during operations in northwestern and central Syria, including a woman.
The state news agency SANA also gave a toll of 12 dead -- including six troops -- when an "armed terrorist group" ambushed a bus in central Syria.
Omar Idlibi, spokesman of the Local Coordination Committees (LCC) which groups anti-regime activists on the ground, said "four martyrs fell in Karnaz near the (central) town of Maharda."
He also reported eight others people killed in the northwestern Idlib province, including two people in the town of Khan Sheikhwan.
On Friday, SANA reported that gunmen in Khan Sheikhwan had kidnapped a corporal with Syria's internal security services, Wael Ali.
According to the LCC, security forces backed by soldiers raided Khan Sheikhwan and encircled hospitals "to prevent the wounded from being brought in for treatment."
Last Sunday nine people were killed by heavy machine-gun fire in the town when three tanks and three security vehicles stormed it, the Syrian Observatory for Human Rights advocacy group reported.
Meanwhile SANA quoted a military source saying six troops, including an officer, and three civilians were killed in Maharda on Sunday when gunmen fired on a bus "carrying soldiers and labourers going to work".
Three assailants were also killed in a shootout with troops, while 17 people were wounded in the attack, SANA said.
The protest hub of Homs also witnessed violence Sunday as 15 people were wounded when troops and security forces raked gunfire in the central city as part of an operation launched Saturday night, the Observatory said.
The unrest came as International Committee of the Red Cross chief Jakob Kellenberger met Foreign Minister Walid Muallem for a briefing on Syria's efforts to "restore order" and introduce reforms, blaming "armed groups" for the unrest, SANA said.
Kellenberger's office had said he was expected to meet President Bashar al-Assad to discuss access to prisoners and areas of unrest. The ICRC chief arrived on Saturday and was due to leave on Monday afternoon.
His office said that during a previous visit in June "an understanding was reached" for "enhanced access to areas of unrest, and negotiations would take place concerning ICRC visits to detainees".
More than 2,200 people have been killed in Syria since almost daily protests began on March 15, according to the United Nations, while human rights groups say more than 10,000 people are behind bars.
Meanwhile the Arab League secretary general Arabi said Syrian authorities now agreed to a visit, which he had announced a week ago after the 22-member group had met to discuss the Syrian crisis.
"I will express Arab concerns and I will listen," Arabi said.
Arab foreign ministers had urged Syria "to follow the way of reason before it is too late" and halt the violence -- drawing rebuke from Damascus.
In Moscow, the foreign minister insisted Russia and its partners in the BRICS group of emerging countries -- Brazil, India, China and South Africa -- are opposed to any foreign military intervention in Syria.
"We are proposing that the UN Security Council firmly demands that all parties to the conflict respect human rights and begin talks," Lavrov said.
Moscow has consistently opposed sanctions against Syria and, like China, boycotted a UN Security Council meeting on sanctions against Damascus.
On Friday, the European Union imposed an embargo on oil exports, and slapped other sanction on Syria, drawing criticism from Russia. The oil embargo went into effect on Saturday.