A furious storm system that kicked up tornadoes, flash floods and hail as big as softballs has claimed at least 25 lives on a rampage that began in Oklahoma days ago, then smashed across several Southern states as it reached a new and deadly pitch in North Carolina and Virginia.
Emergency crews searched for victims in hard-hit swaths of North Carolina, where 62 tornadoes were reported from the worst spring storm in two decades to hit the state. At least a half dozen people died just in the Carolinas and Virginia and authorities warned the toll was likely to rise further Sunday as searchers probed shattered homes and businesses.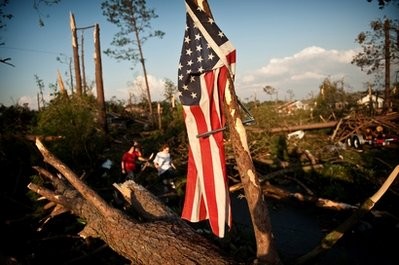 Will Harrison's flag hangs from a fallen tree after it was blown off his house when a tornado ripped through the Cottonade neighborhood Saturday, April 16, 2011 in Fayetteville, N.C.
Authorities said at least five people were killed in North Carolina and at least three more in neighboring Virginia during the storm's passage Saturday before the sprawling, potent storm bands moved eastward over the Atlantic.
The storms claimed its first lives Thursday night in Oklahoma, then roared through Arkansas, Mississippi, Alabama and Georgia. Seven people each were killed in Arkansas and Alabama, two people in Oklahoma and one person in Mississippi, authorities have said. One of the dead was an elderly man whose trailer was tossed nearly a quarter mile across a state highway.
In North Carolina, Gov. Beverly Perdue declared a state of emergency after reporting fatalities in at least four counties. But she declined to immediately confirm an exact number of deaths. She said the 62 tornadoes reported were the most since March 1984, when a storm system spawned 22 twisters in the Carolinas that killed 57 people — 42 in North Carolina — and injured hundreds.
"Our thoughts and prayers are with everybody in North Carolina who has been through this horrible day," Perdue said.
Authorities in North Carolina said they would provide more details of the death toll later Sunday after checking on the reports of fatalities in at least four counties and in the capital city of Raleigh. Search and rescue teams operated through the night, Perdue said, with damage assessments starting in earnest Sunday after daylight.
"There's a lot of work that needs to be done in these areas that are most heavily impacted," said Doug Hoell, the state's director of emergency management. "There's a lot of debris out there that's got to be cleaned up."
In Virginia, disaster officials said one apparent tornado ripped more than 12 miles long through Gloucester County, uprooting trees and pounding homes to rubble while claiming three lives. Another person was confirmed dead and another remained missing early Sunday after flash flooding elsewhere in Virginia.
Scenes of destruction across the South looked eerily similar in many areas.
In North Carolina, rooftops were ripped off stores, trees were plucked from the ground and scores of homes were damaged, Hoell said.
At one point more than 250,000 people went without power in North Carolina before emergency utility crews began repairing downed lines. But scattered outages were expected to linger at least until Monday before power was fully restored..
Among areas hit by power outages was Raleigh, a bustling city of more than 400,000 people where some of the bigger downtown thoroughfares were blocked by fallen trees early Sunday.
The storm sweeping into North Carolina moved from the state's western mountain reaches to the coast on Saturday amid utter devastation in some places.
Police and rescue crews began conducting house-to-house searches later Saturday at a mobile home park in north Raleigh, where the storm snapped some trees in half, ripped others out of the ground and tossed some trailers from one side of a street to the other.
In Sanford, about 40 miles southwest of Raleigh, a busy shopping district was pummeled by the storms, with some businesses losing rooftops in what observers described as a ferocious tornado. The Lowe's Home Improvement Center in Sanford looked flattened, with jagged beams and wobbly siding sticking up from the pancaked entrance. Cars in the parking lot were flipped by the winds.
"It's very, very bad here," said Monica Elliott, who works at the nearby Brick City Grill. "We saw a tornado that just rode up over the restaurant."
Remarkably, no one was seriously injured at the Lowe's, thanks to a quick-thinking manager who herded more than 100 people into a back area with no windows to shatter.
"It was really just a bad scene," said Jeff Blocker, Lowe's regional vice president for eastern North Carolina. "You're just amazed that no one was injured."
Cindy Hall, a Red Cross volunteer and outreach minister at First Baptist Church in Sanford, said dozens of homes in the area were damaged.
"It wiped out our St. Andrews neighborhood, which includes about 30 homes," she said.
To the west, hikers stranded by flash floods had to be rescued.
In Virginia, Department of Emergency Management spokesman Bob Spieldenner, said an apparent tornado ploughed through communities of Gloucester County, destroying or damaging homes, uprooting trees in a quiet farming and fishing region along the Chesapeake Bay.
"I know it was a pretty long path," he said of the reported tornado. "They estimated it was 12 to 14 miles" based on 911 emergency calls.
Authorities said at least three deaths had been confirmed in Gloucester County and at least 60 were injured, most with minor injuries. Spieldenner said one person was killed when a vehicle ran into flash flooding near Waynesboro and another person was missing and a third rescued.
He reported homes and mobile homes damaged and destroyed in a series of other Virginia counties and flash flooding west of Charlottesville that prompted water rescues — including four people rescued unhurt from a car that had plunged into deep water flowing over a street.