SANAA, April 3, 2011 (AFP) - Yemen police fired tear gas and live bullets at protesters holding an anti-regime demonstration in the city of Taez on Sunday, injuring at least 250, witnesses said.
"Between 250 and 300 protesters were injured, some with live bullets, as police opened fire to disperse a protest heading to the governorate headquarters," in the city that lies 200 kilometres (125 miles) south of the capital Sanaa, a witness said.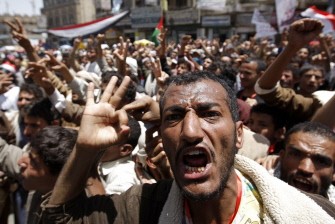 A Yemeni anti-government protester shouts slogans during a demonstration demanding the resignation of Yemeni President Ali Abdullah Saleh in Sanaa on April 2, 2011. AFP
Police continued to fire as security forces pushed back demonstrators to a square where they have been holding a sit-in as part of nationwide protests demanding that President Ali Abdullah Saleh step down, witnesses said.
A member of parliament who did not want to be named charged that police were "attempting to storm the sit-in square."