Heavy fighting raged across Sri Lanka's north with the military destroying rebel bunkers and killing at least 29 guerrillas, the defense ministry said Monday.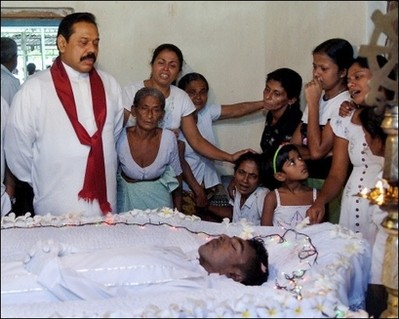 Sri Lankan President Mahinda Rajapakse (L) attends the funeral of local residents of the Middeniya village in the deep south of the island January 20 who were killed in a Tamil Tiger rebel attack
The ministry said 16 rebels were killed in Vavuniya district while 13 were killed in clashes across Mannar district in the northwest on Sunday.

The latest fighting raises the weekend death toll to 83 rebels killed and seven government troops injured, according to military estimates.

Since the start of this month, 534 rebels and just 22 government soldiers have been killed, according to defense ministry figures.

The figures cannot be independently checked as no journalists or rights groups have access to the embattled areas.

The clashes come after Sri Lanka formally ended a six-year peace truce with the Tamil Tiger rebels last week, accusing the guerrillas of using the Oslo-brokered pact to re-arm and strike military and civilian targets.

Tens of thousands of people have been killed since the Liberation Tigers of Tamil Eelam launched a separatist campaign in 1972 to carve out an independent homeland for minority Tamils in the island's north and east.