A dam burst its banks near the Indonesian capital Jakarta early Friday, drowning 52 people in a deadly torrent of muddy water that flooded hundreds of homes, health ministry officials said.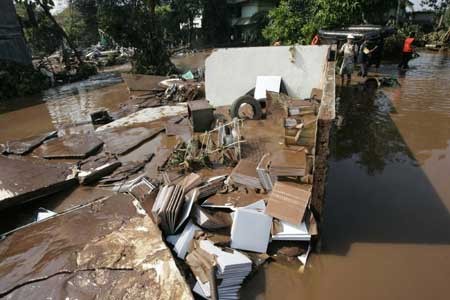 A view of the damage after a flood caused by dam collapse on the outskirts of Jakarta March 27, 2009. It has caused at least 32 people dead and tens of local residents missing.
Dozens of others were missing after the dam burst overnight while people were asleep, giving them little chance to flee a wall of water that came crashing into low-lying homes and that residents compared to a tsunami.
A part of Situ Ginung lake dike in South Tangerang, West Java of Indonesia, gave away on early Friday morning, sending water to inundate houses in Ciputat and driving scores of local residents to evacuate, the Jakarta Post reported.
"The dam burst happened at 2:00 am (1900 GMT Thursday) but before that there was heavy rain and wind, many trees were uprooted. People were still sleeping and couldn't do anything."
"Many people are still trapped and the rescue is ongoing. We've sent out 10 rubber boats to evacuate the victims."
He estimated up to 500 homes were destroyed or submerged after heavy rains caused the dam to burst its walls at Situ Gintung lake, in the Jakarta suburb of Cireundeu.
"Right now residents are being evacuated. About half of them are still on rooftops waiting for help," said Rustam Pakaya, who heads the crisis centre.
Victims were being evacuated to dry ground at a nearby university, Pakaya said.
A worker at Jakarta's Fatmawati hospital, Roni, told AFP the hospital had already received the bodies of four victims, including a nine-year-old girl.
"They were all blue and covered in mud. The nine-year-old was found on the roof with head injuries," she said.
"It was like being in the middle of a tsunami," local resident Minu told news website Detikcom.
"People were screaming 'the water's coming in, the water's coming in,' and our dog was barking. I could hear our door being pounded on and I wondered who could it be, but it was the water."
Television images showed people frantically evacuating flood victims from submerged homes via twisted alleyways in the stricken neighbourhood, a mix of large middle-class homes and crowded slums.
Houses and concrete buildings were buckled by the force of the waters, and aerial footage showed the lake nearly drained.
"The floods caused a landslide, destroying my house and another one below it," local resident Mabruri told TV One. "Whenever it rains, water rises. But never like this."
Vice President Jusuf Kalla and Welfare Minister Aburizal Bakrie visited the disaster area to inspect the rescue operations and visit the victims, Metro TV reported.
"We will provide emergency help to the victims. For those whose homes were destroyed, the government will help with the repairs," Kalla said.
Local media reported that President Susilo Bambang Yudhoyono would head to the area before election rallies for his Democratic Party, which is vying for seats in legislative elections next month.
State power company PLN shut off electricity to the flood-hit area, where five of its power stations were submerged, Detikcom reported.
Floods and landslides are common in Indonesia during the wet season, which falls around the northern hemisphere's summer.