Landslides triggered by rain left 33 people dead and 41 missing on the main Indonesian island of Java on Wednesday, officials said.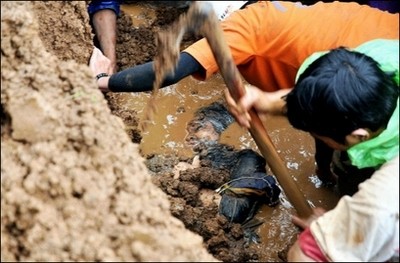 Volunteers dig out a body from the mud following a landslide in Tawangmangu, on Java island, 26 December 2007 (Photo: AFP)
Landslides hit villages in the Tawangmangu area of Central Java after heavy rains that began lashing the area on Tuesday, according to local reports, which each cited differing numbers of missing.

Suparto, a local official in Tawangmangu, said 13 houses had been buried and four others badly damaged in one village.

"The worst hit area is Ngledoksari village," he told AFP. "The village is located right under a hill which collapsed and hit houses early in the morning."

District police chief Ridwanto told local ElShinta radio that 300 police had been deployed to the affected areas.

"There's a possibility the number of victims will rise," Eko Prayitno, head of Central Java's search and rescue team, told the Detikcom online news portal, which put the toll at 51 without citing a source.

Heavy machinery had been sent to assist the recovery of bodies, he said, adding that conditions were difficult due to ongoing rain.

Another local news portal reported that the landslides hit at about 2:00 am (1900 GMT Tuesday).

Metro TV showed footage of a landslide that had blocked the main road five kilometers (three miles) from Tawangmangu being cleared to allow traffic through.

Meanwhile floods were affecting other parts of Central Java. TV footage showed people clutching their belongings above their heads as they sloshed through muddy brown water reaching chest height.

Indonesia has been repeatedly afflicted by deadly floods and landslides in recent years, with activists warning that logging and a failure to reforest denuded land in the world's fourth most populous country are often to blame.

In July, almost 90 people were killed after floods and rains hit Sulawesi island.