A truck ploughed into a crowd in the French Riviera resort of Nice, killing at least 77 and leaving scores injured in an attack on revellers watching a Bastille Day fireworks display, authorities said Friday.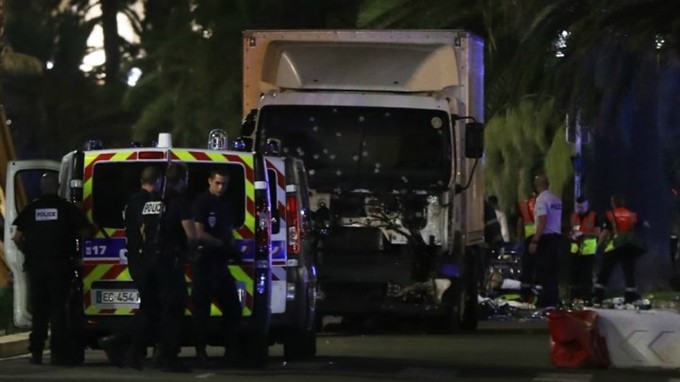 Police officers and rescued workers stand near a van that ploughed into a crowd leaving a fireworks display in the French Riviera town of Nice on July 14
The driver of the truck was shot dead after barrelling two through the crowd on the palm-lined Promenade des Anglais, sending hundreds fleeing in terror and leaving the area strewn with bodies.
Authorities said they found identity papers belonging to a 31-year-old French-Tunisian citizen in the truck, as well as "guns" and "larger weapons."
"An individual drove a truck into the crowd. He was killed by police," said interior ministry spokesman Pierre-Henry Brandet.
French President Francois Hollande said the attack was clearly a "terrorist" act.
He said several children were among the dead and 20 victims were in a critical state after the attack, which he said was of an "undeniable terrorist nature".
He expressed his "support and solidarity" with the residents of Nice, and was due to chair a meeting of the country's defence and security chiefs later Friday.
The bloodshed came on Bastille Day, a celebration of everything France holds dear, its secular republic and the values of "Liberte, Egalite, Fraternite" (Freedom, Equality, Fraternity).
It was after a day of military pomp and ceremony in Paris - where armed forces, tanks and fighter jets swooped down the Champs Elysees avenue – and spectacular firework displays that the crowd of party-goers in Nice was attacked.
A photograph showed the front of the truck riddled with bullet holes and badly damaged, with burst tyres, while a lone doll lay abandoned on the promenade where families celebrated the holiday just hours earlier.
Robert Holloway, an AFP reporter who witnessed the white truck driving at speed onto the seaside road, described scenes of "absolute chaos".
"We saw people hit and bits of debris flying around. I had to protect my face from flying debris," he said.
President of the region Christian Estrosi said 77 people were killed, with many others in "critical" condition.
'Horrific terrorist attack'
If confirmed as a terror attack, it would be the third major strike against France in less than 18 months and prosecutors said anti-terrorist investigators would handle the probe.
"Investigations are currently underway to establish if the individual acted alone or if he had accomplices who might have fled," the interior ministry spokesman said.
US President Barack Obama condemned "what appears to be a horrific terrorist attack", although no group claimed responsibility for the incident.
The bloodshed comes eight months after Islamic State jihadist attacks on Paris nightspots left 130 people dead, dealing a hard blow to tourism in one ofthe world's top destinations.
France has been under a state of emergency ever since the November 13 Paris attacks, which came after 17 were killed in another attack in January at various sites including the Charlie Hebdo magazine and a Jewish supermarket.
The Islamic State group has repeatedly singled out France as a prime target for its military actions against the group in Iraq and Syria, and hundreds of jihadists have left France to go and fight in their ranks.