At least six people were killed and eight injured Thursday in an avalanche in the French Alps, mountain police said, with emergency services dispatched to the scene.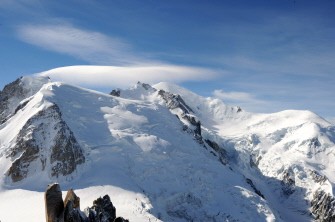 picture taken on September 16, 2010, shows the Mont-Blanc in the French Alps, at right, are the Mont Maudit and the Dome du Gouter.
Local authorities said the avalanche was "the most deadly of recent years".
"There are reportedly people missing," police said, adding that the avalanche had hit two roped groups of climbers.
One of the injured sounded the alert at around 0325 GMT after the avalanche on Mont Maudit, a mountain in the Mont Blanc masif.
Mont Maudit is the massif's third-highest peak rising to an altitude of 4,465 metres (14,650 feet)
Authorities in the nearby town of Chamonix were to hold a press conference later Thursday.