ATHENS, May 5, 2010 (AFP) - Protests against a government austerity drive drew 20,000 people in Athens as rallies kicked off Wednesday shortly before midday amid a general strike, police said.
About 10,000 protestors from the main public and private sector unions massed in the capital for speeches while the PAME communist union drew another 10,000 people.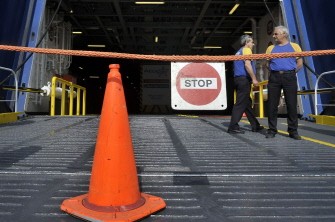 Crew members stand at entrance to a ferry in the port of Piraeus due to a 24-hours strike on May 5, 2010. AFP photo
Protestors bore banners reading "IMF and EU are stealing a century of social progress" and "the rich must pay for the crisis".
After their separate rallies, the demonstrators began converging on parliament, where the government was preparing for unprecedented spending cuts and tax hikes to be voted on Thursday.
In Greece's second city in the north of the country, Thessaloniki, some 14,000 people gathered for protests, police said.