Greece is trying to persuade China to buy up to 25 billion euros (35 billion dollars) of government bonds as Athens struggles to fund soaring public debt, a report said Wednesday.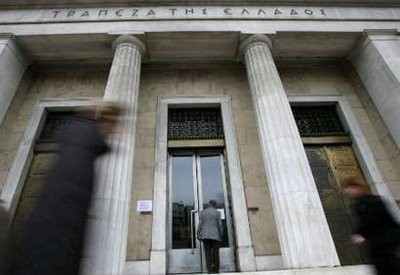 Bank of Greece in Athens
US investment bank Goldman Sachs has been promoting a Greek bond sale to Beijing's State Administration of Foreign Exchange (SAFE), which manages China's 2,400 billion dollar financial reserves, the Financial Times said.
In a move demonstrating China's growing financial power, an unnamed Greek official said that Athens would welcome Chinese buyers of its bonds, with an amount of 20-25 billion euros discussed in talks, the FT said.
The newspaper said that Goldman Sachs Chief Operating Officer Gary Cohn has made two trips to Athens, last November and this month, to meet Prime Minister George Papandreou and senior officials.
Beijing has not agreed to such a purchase, the report said, but added that a lower deal of around 5-10 billion euros appeared possible after Cohn's second trip to Athens.
Finance Minister George Papaconstantinou said he would visit China on a road show next month, but "no target is set" for a debt placement, according to the FT.
However, Athens rejected a suggestion that a Chinese bank should acquire a strategic stake in National Bank of Greece, the country's flagship lender, the FT quoted officials as saying.
Goldman Sachs mooted the sale of equity in NBG to Bank of China, the country's third-largest commercial lender by assets, and made a similar proposal to China Investment Corp, China's sovereign wealth fund.
Chinese officials said CIC was not interested and that regulators would not let BoC make such a risky investment, the report said.
Greece has been hit by three credit downgrades in reaction to concerns over the country's huge debt and public deficit, which reached 12.7 percent of output last year, far above the 3.0 percent ceiling for eurozone members.
The Socialist government, which was elected in October, has since proposed a three-year crisis plan to slash the deficit to 2.8 percent of output in 2012.
The government plans to borrow 54 billion euros on debt markets this year.