WASHINGTON, Nov 23, 2009 (AFP) - Astronauts from the US space shuttle Atlantis were to venture into open space Monday on a third and final spacewalk of their mission aimed at maintaining and installing more high-tech equipment on the International Space Station.
Mission specialists Randy Bresnik and Robert Satcher were spending the night in the Quest airlock of the shuttle as part of the overnight "campout" procedure that helps purge nitrogen from their bloodstreams, preventing decompression sickness once they move out into the vacuum of space.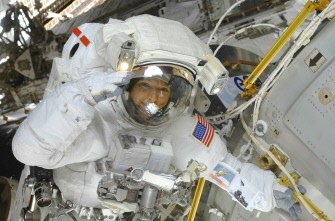 This picture provided by NASA shows US astronaut Randy Bresnik, STS-129 mission specialist, saluting crewmates on November 21, 2009 (AFP photo)
The walk was slated to begin at 7:18 am EST (1218 GMT).
The second spacewalk on Saturday, executed by Bresnik and Mike Foreman, was shortened by about 30 minutes due to false depressurization and smoke alarms, but the duo completed all their scheduled tasks in six hours and eight minutes, according to the US space agency NASA.
The pair installed a cargo attachment system on the space-facing side of the station's Starboard 3 truss and set up a wireless video system to transmit images to the station and relay them to Earth.
During a separate mission next year, the Alpha Magnetic Spectrometer will be installed at the attachment point.
Foreman and Bresnik also tackled a task that had been planned for the third spacewalk -- deploying the final attachment system on the Earth-facing side of the truss, where a logistics carrier will be installed next year.
In addition, they installed two antennas on a Columbus European lab assembly to track ships on Earth, and relocated a floating unit that measures electric charges on the station.
Prior to the spacewalk, two other astronauts used the station's robotic arm to transfer a cargo pallet containing 10,000 pounds (4,545 kilograms) of spare parts.
Bresnik will undertake Monday's spacewalk buoyed by a happy event in his personal life. On Sunday, his wife back on Earth gave birth to a baby daughter, NASA announced.
The National Aeronautics and Space Administration said it was the second time a baby had been born to a US astronaut during a spaceflight. In June 2004, astronaut Mike Fincke's daughter was born while he was aboard the ISS.
After Atlantis, just six space missions will remain in the shuttle program before the fleet's three orbiters are retired.
NASA's shuttle program is due to be mothballed next year, but the White House could still decide to extend it through 2011 to reduce America's future reliance on Russia for transporting astronauts to the space station.
The shuttle remains the only spacecraft that can carry heavy, bulky equipment that is key to maintaining the ISS, itself set to remain operational until 2020.
Sixteen countries participate in the ISS program, at a cost of 100 billion dollars with most financing coming from the United States.
The US human space flight program, which swallows up 10 billion dollars of NASA's 18-billion-dollar annual budget, is at great risk of being grounded.
A panel set up by President Barack Obama and tasked with assessing its future has said an additional three billion dollars per year is needed for NASA to meet its goals.