Sotheby's bowed to economic realities and slashed estimates for much-hyped contemporary art works at an auction where almost a third of lots failed to sell.
Of 63 works on offer in New York only 43 sold. Just a handful of works that did sell met their pre-auction price estimates and even fewer fetched more.
The dismal showing at the auction house's autumn sale for ultra-fashionable contemporary work highlighted how the global financial crisis has knocked a hole in the recently booming luxury art market.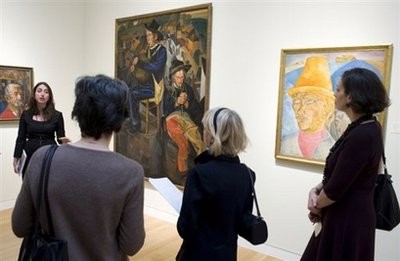 A press preview at Sotheby's in New York.
Similar performances were seen at Sotheby's and rival Christies last week in their New York auctions of impressionist and modern art.
Lead auctioneer Tobias Meyer put a brave face on the results, saying afterwards: "We are very happy with what happened tonight."
He said that the hugely reduced prices reflected demand from a "seasoned, smart collecting community responding to great material."
"When the price was right, the audience responded and bought it. When the estimate might seem excessive, clearly they didn't."
However, the auction of works by headline artists including Jeff Koons, Lucian Freud, Damien Hirst, and Andy Warhol, at times resembled a fire sale, rather than the spending frenzy seen in previous years.
Among the works failing to meet their minimum price were paintings by Anish Kapoor, Roy Lichtenstein, Warhol, Freud and Jean-Michel Basquiat.
A large painting named "Archisponge" by Yves Klein was the biggest success, selling for over 21 million dollars. However, this was still shy of the pre-auction target announced as "in the region of 25 million dollars."
"Beggar's Joys," a painting by Philip Guston, fetched 10.16 million dollars -- well under the target of 15 million dollars.
Other bargains included Tom Wesslemann's "Great American Nude" at 4.14 million dollars, where the target had been six to eight million dollars.
Many of the lots that failed to sell fetched bids that barely crossed the half-way mark to Sotheby's pre-auction target.