An Australian schoolgirl bidding to become the youngest person to sail solo around the world began her journey Sunday, despite urgings from officials to abandon the perilous endurance test.
Sixteen-year-old Jessica Watson set sail on her bright pink yacht from Sydney Harbour at about 9:00 am (2200 GMT Saturday), amid cheers from well-wishers and accompanied by a collection of kayakers and small boats.
"I can't believe we are finally here. Today, I am going to sail around the world," Jessica said in a statement on her website.
The teenager badly damaged her boat when she crashed into a 63,000-tonne cargo ship shortly after beginning a test run last month, prompting Queensland state officials to urge her to reconsider her quest.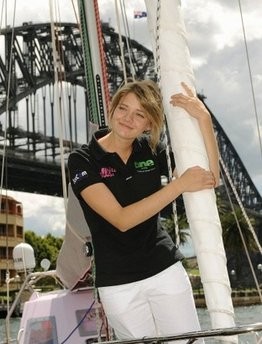 16-year-old Australian sailor Jessica Watson is seen posing for a photo.
But Watson, who will sleep in 20-minute naps during the eight-month non-stop sail, was determined to embark on the voyage which she said she had been dreaming about since she was about 11.
"There are people out there who I suppose have their doubts, and rightly so because it's a big, scary and possibly dangerous thing, but I am not here without confidence," she said earlier this month.
Watson plans to travel north from Sydney to the equator above New Zealand, around South America's treacherous Cape Horn and back via the Southern Atlantic and the Cape of Good Hope, completing a 23,000 nautical mile sail.
Deputy Prime Minister Julia Gillard wished Watson the best of luck but said that she, along with many Australians, was nervous for the teenager who set off Sunday under a dreary, grey sky.
"The seas are, obviously, a dangerous and lonely place, but I think we'd all be wishing Jessica well," Gillard told commercial television.
"Ultimately, people have to make their own decisions. But my words at this stage, given that she's determined to go, would be to wish her the best of luck and to urge her to keep safe.
"And if that means that at some point she's got to abandon the journey, then the most important thing here is a young person's life."
Watson was urged to abandon her trip after her September collision with the container ship which snapped the mast of her 10.23-metre (33-foot) yacht "Pink Lady" and damaged its rigging and hull.
Maritime Safety Queensland found Watson had probably dozed off before she hit the much larger vessel, did not have a fatigue management plan and that her safety guide was a page from a school book covered in childish doodles.
The authority concluded the teenager was too inexperienced to attempt the gruelling voyage, prompting Queensland Premier Anna Bligh to urge Watson to consider abandoning the trip.
"This is a very high-risk venture, frankly it's one that I would be reconsidering, but ultimately it's a decision for them," Bligh said at the time.
Tony Bullimore, the British yachtsman who survived five days in the upturned hull of his yacht after capsizing in the Southern Ocean in 1997, praised Watson as a "tremendously courageous young lady" but said it was normal to be worried.
"It's a long way round the world and you meet all sorts of conditions," he told Sky News. "It can be tough."
Watson, who has been in Sydney for almost two weeks awaiting favourable winds for her departure, spent Saturday night going over her preparations and relaxing with family and friends.
Her mother posted the first message on Watson's blog on Sunday, saying her daughter was "a little pre-occupied on her first day" but wanted to sincerely thank all her supporters.
Watson, who smiled and waved at supporters as she was escorted out of Sydney Harbour by New South Wales Maritime boats, hopes to beat the record set by fellow Australian Jesse Martin who completed the journey aged 18 in 1999.
In August, Britain's Mike Perham, 17, became the youngest person to sail round the world but rudder problems and other hitches forced him to pull into port three times.