An Australian student has created what is thought to be the world's first iPhone worm, which replaces the popular device's wallpaper with a picture of 1980s pop icon Rick Astley.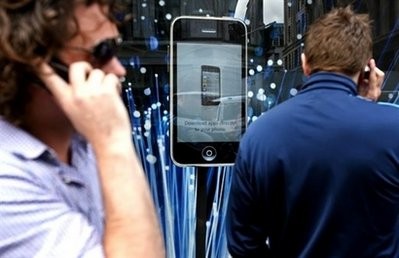 Customers queue outside the Apple Store in London. (AFP Photo)
Ashley Towns, a 21-year-old technical college student who lives with his family near Sydney, said he concocted the worm, which can spread from phone to phone, to raise awareness about security.
"This virus pretty much exploits people's laziness to change their password," he said, according to public broadcaster ABC.
Towns' "Ikee" worm swaps the popular smartphone's wallpaper with an image of Astley and the slogan "Ikee is never gonna give you up" -- a reference to the British star's 1987 chart-topper, "Never Gonna Give You Up".
The virus affects only phones that have been cracked, or jail-broken, to let users install applications not approved by manufacturer Apple.
"When people jail-break their phone, it allows them to install a service on their phone called SSH," Towns told ABC.
"Generally you should always change your password after setting up on the iPhone as all iPhones use the same password."
He said he had proved it was not hard to hack into an iPhone, and was not aware if he had broken any laws. The virus is easily removed by deleting a few files.
"The virus itself is not malicious and is not out to hurt people. It's just poking fun and hopefully waking people up a little," Towns said.
"Somebody with more malicious intent could have done anything -- read your SMSs, go through your emails, view your contacts, photos -- anything," he added.
Experts warned the virus was already spreading in Australia and the same technology could be used to steal personal information.
"It has now evolved into a worm which is spreading under its own steam and is infecting iPhone users in Australia," Graham Cluley, a computer security expert with anti-virus firm Sophos, told the ABC.
"But what we are particularly worried about is a new version of the worm could steal confidential information about you. It may not be so obvious as to display a picture of Rick Astley."