Australia on Tuesday suspended live animal exports to 11 abattoirs in Indonesia after state television broadcast "shocking" images of cattle being mistreated in the slaughterhouses
.
Agriculture Minister Joe Ludwig said he made the decision after being provided with footage from animal welfare group Animals Australia, which he described as "completely unacceptable".
"No one accepts the mistreatment of animals," Ludwig told a press conference, adding that the video imagery was "shocking in the extreme".
The minister halted the trade of live animals to the facilities identified by the footage, and has ordered an independent inquiry into the treatment of animals along the entire supply chain to Indonesia.
Ludwig said while live cattle exports were a valuable trade for Australia, he would not rule out expanding the suspension to other facilities if more evidence of cruelty and mistreatment came to light.
"It is important that we demonstrate to the community that we do take animal welfare outcomes very, very seriously," the senator said.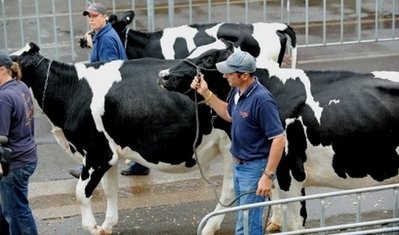 Cattle are lead by their handlers during an agricultural event in Sydney
The announcements follow the airing of a programme on ABC television late Monday that showed animals dying prolonged deaths and being cruelly mistreated in several abattoirs in Indonesia.
The ABC said it had evidence of cruelty, including kicking, hitting, gouging of eyes and breaking of tails of some animals as Indonesian workers attempted to force cattle into slaughter boxes.
The head of animal welfare at Indonesia's agriculture ministry, Sri Mukartini, would not comment on specific incidents.
"Animal welfare is a relatively new issue in Indonesia. We're still developing regulations," she told AFP in Jakarta.
Canberra funds a number of projects aimed at improving infrastructure and training to promote better animal handling and slaughter practices, and Ludwig noted that not all Indonesian abattoirs were at fault.
But pressure is mounting on Australia to ban live exports to its Asian neighbour entirely, with two independent lawmakers vowing to introduce a bill to parliament calling for the immediate suspension of the trade to Indonesia.
They also want to see the winding down of the whole industry within three years.
Independent MP Andrew Wilkie, whose support is critical to the fragile coalition government of Prime Minister Julia Gillard, said the financial benefits of the trade should not influence the government's decision.
"We have cattle going to Indonesia which are being mistreated by numerous slaughterhouses on a scale that proves it is a systemic problem, not only in Indonesia... but it's a systemic problem in Australia's whole live export industry," Wilkie told reporters.
Australian live cattle exports were valued at Aus$684.5 million (US$734 million) in 2010. Indonesia was the largest market with just under 60 percent of trade.