SYDNEY, Sept 15, 2009 (AFP) - Australia on Tuesday announced shock plans to break up dominant telecommunications player Telstra to boost competition as it presses ahead with a 37 billion US dollar national broadband network.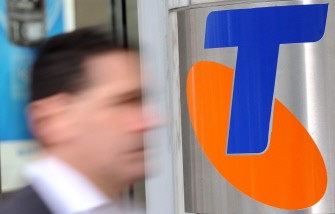 A man passes Telstra's corporate logo outside Telstra's headquarters in Sydney on September 15, 2009, as shock plans to break up the telecommunications giant were announced by the Australian government (AFP photo)
Communications Minister Stephen Conroy said Telstra, part-owned by the government and subject to strict regulation, would effectively be forced to split its retail and network arms unless it agrees to do so.
"It is the government's clear desire for Telstra to structurally separate, on a voluntary and cooperative basis," Conroy said.
"The government will require the functional separation of Telstra, unless it decides to voluntarily structurally separate," he added.
Under draft regulatory reforms introduced to parliament on Tuesday, Telstra will be barred from acquiring further wireless spectrum unless it restructures and sells off its cable infrastructure network and stake in Foxtel pay TV.
But it may be allowed to keep the assets if it comes up with an alternative structural change acceptable to the government, Infrastructure Minister Anthony Albanese told parliament.
Telstra said it was disappointed at the move but was still committed to working with the government, which is planning a 43 billion Australian dollar (37 billion US) high-speed Internet network spanning the vast country.
"While we are disappointed the government has felt it necessary to introduce this legislation, Telstra remains committed to working with the government to find a solution that is in the best interests of the industry, the nation, Telstra and our shareholders," chief executive David Thodey said.
Investors reacted by dumping Telstra's shares, whose price slumped 4.62 percent to 3.10 dollars in afternoon trade.
Australia hopes to end the historic advantage Telstra has enjoyed over rivals such as Singapore-owned Optus because of its ownership of the country's ageing copper communication lines.
The government also hopes to reduce Telstra's influence over the telecommunications industry as it works towards the national high-speed fibre-optic network.
"For years industry has been calling for fundamental and historic micro-economic reform in telecommunications," Conroy said. "Today we are delivering this outcome in Australia's long-term national interest."
Conroy said he was expecting "hard-nosed negotiations" with Telstra, a former state-owned monopoly which has had a tumultuous relationship with the government since going mostly private in 2006.
Chief executive Thodey has been working to improve relations with Canberra since taking over in May from his controversial predecessor Sol Trujillo, who cut 10,000 jobs and oversaw a fall in the share price.
Analysts said the government, which retains a 12-percent shareholding in Telstra, had left the company with little choice but to restructure.
"It's so-called voluntary separation, but it's volunteering with a gun to the head," BBY analyst Mark McDonnell told Dow Jones Newswires.