SYDNEY (AFP) – Australia's new Prime Minister Julia Gillard gave in to miners' demands Friday that the government slash a hefty 40 percent super tax on the industry, as she braces for elections as early as next month.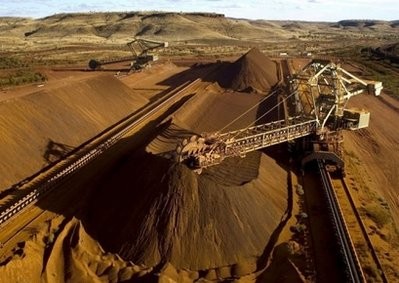 (AFP file) A reclaimer loads a conveyor with high grade iron ore at a Rio Tinto mine in Western Australia's Pilbara region.
The Labor government has dramatically overhauled the so-called "super profits" tax in a compromise that will see the country's most valuable exports, coal and iron ore, along with gas and oil projects, subject to the levy.
"There will be a negotiated profit-based tax regime but there will be no resources super profits tax," Gillard said after days of intense talks with major miners BHP Billiton, Rio Tinto and Xstrata.
The tax rate for coal and iron ore profits is to be reduced to 30 percent, from 40 percent, and the rate at which the tax will kick in is to be lifted from about five percent to some 12 percent.
Land-based oil and coal seam gas will be drawn into the Petroleum Resource Rent Tax regime, which already applies to offshore oil and gas resources, and taxed at 40 percent.
Gillard said the iron ore and coal tax, renamed the Minerals Resource Rent Tax (MRRT), was a significant breakthrough agreement that would ensure all Australians would receive their fair share of the country's mineral resources.
"This will deliver better returns on resources that all Australians own and that can only be dug up once," she said. "It moves our mining industry forward with certainty.
"We've been stuck on this question as a nation for too long, today we are moving forward together."
Major miners said they were encouraged by the deal struck late Thursday after Gillard took on the issue as her first priority following a lightning party coup last week in which she ousted her predecessor Kevin Rudd.
Rudd had refused to negotiate on the 40 percent rate of the tax or at what point it would kick in and the issue had embroiled his government in a damaging war of words with the wealthy and influential mining sector.
The mining tax helped prompt the centre-left Labor Party last week to dump Rudd, who was falling dramatically in opinion polls, in favour of Gillard, formerly his deputy.
The development was largely welcomed by the industry, with the Minerals Council of Australia describing it as a "positive outcome" for the country.
BHP Billiton, Rio Tinto and Xstrata -- which announced it would resume a copper project suspended in the wake of the tax -- said the development was encouraging, while stocks in major resources companies rose in early trade.
The agreement means the government will lose about 1.5 billion dollars (1.3 billion US) in revenue in the first few years, and only be able to fund a one percent cut in company tax rather than a hoped-for two percent.
Asked whether the government had been bullied by the deep-pocketed mining industry and its intensive advertising campaign against the tax, Gillard said she had engaged in "hard, frank, respectful discussion".
The new prime minister said she was placing her consultative stamp on the government, adding that she believed you can "work best if you can get people around a table and have open, frank discussions".
The government wants to introduce the tax from July 2012 but it must still be passed by the parliament, where it will face stiff opposition from the Liberal/National coalition, which has vowed to oppose or rescind it.
Meanwhile, a prominent economist who supported the original tax, said the compromise deal was a worrying sign of corporate influence on policy.
"This is quite a scary development for democracy," the University of Melbourne's Professor John Freebairn told ABC radio.
The compromise, the finer details of which are still to be determined in consultations between government and industry, is likely to prompt Gillard to call an election, due this year, in a matter of weeks.