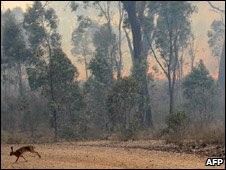 Australian homes are under threat from a new season of fires (AFP photo)
PERTH, Australia, Dec 30, 2009 (AFP) - Australian authorities declared a natural disaster Wednesday after a raging wildfire destroyed nearly 40 homes in the country's worst blaze since 173 died in February's Black Saturday tragedy.
Hundreds of firefighters battled the inferno at the wheat-farming town of Toodyay, about 80 kilometres (50 miles) from the Western Australian capital Perth, after searing heat and windy weather fuelled fires in the state.
"This is a devastating fire with great destruction," state Premier Colin Barnett told reporters, declaring the blaze a natural disaster to unlock emergency funds.
"I want to express my sympathy to those who have lost their homes, over 30 houses destroyed by a very severe, very intense bushfire in the surrounding area of Toodyay."
Some 37 homes along with sheds, outhouses and livestock were engulfed by the fire, which swept through more than 3,000 hectares (7,400 acres) of land in the sparsely populated farming community.
Three firefighters were treated for smoke inhalation and dehydration and one resident had minor injuries, the Fire and Emergency Services Authority (FESA) said.
"I'd like to acknowledge the efforts of firefighters and the police and the Shire of Toodyay," Barnett said. "There's no doubt they saved lives last night.
"If you saw the destruction; homes totally destroyed, and (people) got to safety (with the help) of emergency services."
Witness Sally Magee described terrifying scenes as she fled her home.
"Terrible smoke and it was quite frightening actually driving... I mean you could actually see the line of fire," she told ABC Radio.
Fire crews who worked through the night said the blaze was nearly under control by Wednesday afternoon, aided by cooler weather.
"All the perimeters are contained. There are really some hot spots out there and they are burning out a few edges just so they can make it safe," FESA spokesman Craig Hynes said.
A second major fire in Badgingarra, about 160 kilometres north of Perth, had burned through some 10,500 hectares of land, although no homes were lost.
Australia is still recovering from Black Saturday, when more than 2,000 homes were lost in the state of Victoria in the country's worst natural disaster of modern times.
Officials credited a new fire warning system introduced since Black Saturday, which urges people to leave their homes rather than stay and try to fight the flames, with saving lives in the Toodyay blaze.
"We're saying to people make your life a priority," FESA's Hynes said.
Parts of Western Australia's goldfields region were given the top-level "catastrophic" fire danger rating on Wednesday, while Tasmanian state authorities imposed a ban on lighting fires.
Australians are bracing for another horror bushfire season after one of the warmest winters on record and following a decade-long drought in parts of the country.
Scores of fires have broken out across the country since August, with more than 20 homes lost. A firefighter collapsed and died in New South Wales in October after helping put out a grass blaze.