A sudden revolt within Australia's ruling party gave the country its first woman prime minister, who promised Thursday to safeguard her government's reforms in education, health and industrial law.
Julia Gillard had been deputy to Prime Minister Kevin Rudd since their Labor Party swept to power in a landslide election victory in 2007.
In a sudden move that took many government lawmakers by surprise, she challenged Rudd late Wednesday to hold a leadership ballot only month out from an election expected this year.
Rudd acknowledged that the party's factional power brokers had lost faith in him and did not contest the leadership at a party meeting on Thursday, leaving Gillard to be elected unopposed.
"I asked my colleagues to make a leadership change ... because I believed that a good government was losing its way," Gillard told reporters.
"And because I believe fundamentally that the basic education and health services that Australians rely on and their decent treatment at work are at risk at the next election," she said.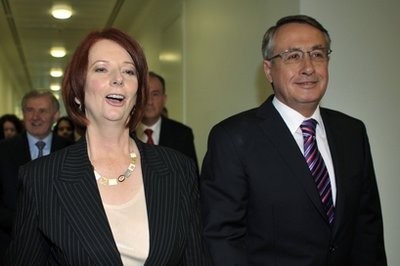 Julia Gillard, left, leaves a Labor Party meeting with Treasurer Wayne Swan in Canberra, Australia, Thursday, June 24, 2010
"I'm well aware that I am the first woman to serve in this role, but can I say to you, I didn't set out to crash my head on any glass ceilings," she added.
Gillard and her new deputy, Wayne Swan, were to be sworn into their offices on Thursday by Australia's first woman Governor-General, Quentin Bryce, within hours of the ballot.
Swan retains his key financial portfolio as treasurer and will to fly to Canada on Friday for a summit of Group of 20 major economies in Rudd's place. He was also elected unopposed. Gillard has yet to announce any other ministers in her new cabinet.
An emotional Rudd, flanked by his wife and three children, gave his final speech in the prime minister's court yard at Parliament House on Thursday, during which he rated keeping Australia out of recession at the top of his list of achievements during his short tenure.
He said he would contest the next election and continue to serve his party.
Rudd had ridden high in opinion polls as one of the most popular Australian prime ministers of modern times until he made major policy backflips, including a decision in April to shelve plans to make Australia's worst polluters pay for their carbon gas emissions.
Gillard signaled no major policy changes during her first press conference, saying that negotiations with the mining industry would continue over the government's plan to introduce a new tax on mineral profits after the next election.
But she would end an advertising campaign that is promoting the tax, keeping a Labor promise that Rudd broke to never use taxpayers' money for political advertising.
John Wanna, an Australian National University political scientist, suspected that Gillard might push for an earlier withdrawal of Australia's 1,550 troops from Afghanistan in a bid to reverse a swing of left-wing voters away from the government.
She is from a left-wing faction of Labor, while Rudd had been supported by the party's right faction.
Gillard was likely to be less focused on foreign policy than Rudd, a Mandarin-speaking former diplomat to Beijing who campaigned to create a new forum for Asia-Pacific nations and for an Australian seat on the United Nations Security Council, Wanna said.
"He has been trying to get Australia punching above its weight in terms of international relations when a lot of the world thought of us as another state of the United States," Wanna said.
Wanna said dumping Rudd for Gillard months out from an election was risky for the government.
"We've got rid of a successful prime minister after two and a half years and we've never done that before in the past," Wanna said.
Gillard was born in Barry, Wales, in 1961, the second daughter of a family who migrated to Adelaide when she was 4 years old in search of a warmer climate for her lung complaint.
A former successful lawyer, she has been attacked by some opponents as unsuitable to lead because she is childless and therefore out of touch with most Australians.
Despite Australia's weathering the global downturn, recent polling puts the center-left government neck-and-neck with the conservative opposition. One poll earlier this month showed Labor trailing the opposition for the first time in more than four years.
Rudd is a Labor hero, having led the party to victory at 2007 elections after 11 years in opposition.