Australian and Indonesian leaders agreed not to let a recent military row affect bilateral relations over a phone conversation on January 5, according to VNS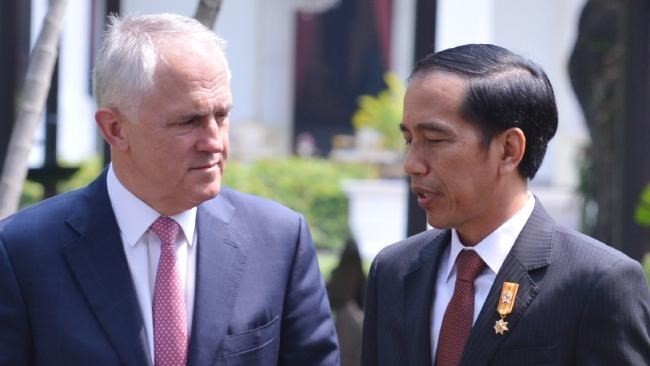 Australian Prime Minister Malcolm Turnbull and Indonesian President Joko Widodo (Photo: theaustralian.com.au)
In a statement after their talk, Australian Prime Minister Malcolm Turnbull said he and Indonesian President Joko Widodo are committed to cementing the ties based on mutual benefits and respect.
He noted that he acknowledges President Widodo's commitment to the strategic partnership between the two countries and values their personal friendship.
For his part, Joko Widodo affirmed that relations with Australia are in good condition.
He said his defence minister Ryamizard Ryacudu and military chief Gatot Nurmantyo have been in charge of working with the Australian side to tackle the issue.
In November last year, a rift was provoked between the two countries after an Indonesian military officer who attended a training class in the Australian city of Perth found its teaching materials offensive to the Indonesian armed forces and people.
On January 4, Indonesia announced it had suspended defence cooperation with Australia. However, in a statement issued the following day, Coordinating Minister for Political, Legal and Security Affairs Wiranto said Indonesia will only suspend military cooperation with Australia in language classes at Australia's Special Forces facilities.-