SYDNEY (AFP) – Australian Treasurer Wayne Swan on Sunday warned that "epic" flooding which has hit 3.1 million people across the nation would be costly and require "difficult" decisions for the economy.
Swan said strong population growth and development meant the deluge had wrought unprecedented damage, hitting many more homes and businesses than major floods and cyclones in the 1970s or the deadly 2009 wildfires, which claimed 173 lives.
"The exact impacts of this epic disaster on our budget will be accounted for in time, but there?s no doubting the final tally will be very significant," said Swan in his first weekly economic note for 2011.
"There is no doubt the recent floods will rank as one of the most costly natural disasters in our history."
The floods swamped an area larger than France and Germany combined in mining and farming Queensland state -- which contributes 19 percent to national output -- and Swan said this meant "enormous" damage to the economy, especially the key coal export industry.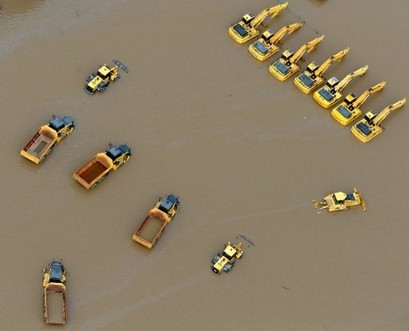 AFP file
"Queensland produces around 80 percent of coking (steelmaking) coal in Australia," said Swan.
"Coking coal itself contributes around 10 percent to Australia's exports, and coking coal exports contribute around two percent to GDP."
Crops and tourism had also taken a hit, said Swan, while the record inundation of Brisbane, Australia's third-largest city, had shaken the retail and manufacturing sectors.
Swan said 3.1 million people had been hit by the floods nationwide and disaster relief payments had already topped Aus$227 million ($224 million), with a "massive" task ahead rebuilding the roads, railways and bridges washed away by the deluge.
"The enormous task ahead of us will require difficult spending cuts in our budget, and we?re working through all the options -- including a temporary levy," said Swan.
Levies were used in the past to fund a gun buyback after the 1996 Port Arthur massacre in which 35 people died, to protect staff entitlements after flagship airline Ansett collapsed in 2001, and to support the dairy and sugar industries, Swan said.
"We are determined to do all that we responsibly can to throw our support behind the Queensland people through this devastating time, but at the same time we have to do the right thing by the nation's economy," he said.