SYDNEY, Nov 20, 2010 (AFP) - Australian Prime Minister Julia Gillard has pledged her full support to New Zealand as it seeks to rescue 29 miners trapped underground by a blast, saying "our hearts do go out to New Zealanders".
At least two Australians are among the 29 men missing at the Pike River Coal mine near Greymouth on New Zealand's South Island after an explosion on Friday. There has been no communication with the men since.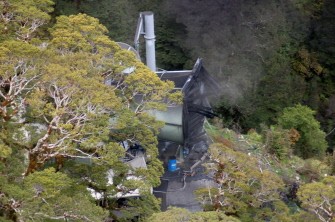 AFP - This aerial photo taken on November 19, 2010 shows smoke coming from the Pike River Coal Mine portal, where some 29 coal miners are trapped underground after an explosion near Greymouth in New Zealand.
"Our hearts do go out to the New Zealanders who would now be waiting very, very anxiously for news of their loved ones and friends," Gillard said Friday from the Portuguese capital Lisbon where she is attending a NATO summit.
"If there's any assistance that we can offer, then certainly we will offer it and we'll stay in touch with our New Zealand counterparts about it."
Rescuers have delayed entering the mine amid fears of toxic gas fumes.
Gillard said the world had already seen one "miracle" mine rescue this year, referring to the successful retrieval of 33 men trapped underground for 69 days at a mine in Chile.
"The world has witnessed a mine disaster already this year, and a miracle when people came out alive, and so our very best wishes go to the New Zealanders as they deal with this situation," she said.
Australia has already sent special equipment to test gas emissions coming from the mine to the site, and Foreign Minister Kevin Rudd said that an Australian technical expert was being sent to the mine on Saturday.
Six mine rescue experts from New South Wales were also heading to New Zealand, while others were on standby.
"We intend to remain in the closest possible contact with our New Zealand friends on this evolving situation," Rudd said, adding that other assistance would be provided if necessary.
"The Kiwis are our mates across the Tasman. This is a really difficult situation," Rudd said.
"What mates do is we help when things go wrong and that's what Australia is doing. We will be there to support our Kiwi friends in a very difficult hour."