SYDNEY, Aug 22, 2010 (AFP) - Australia's knife-edge vote looked certain to bring a hung parliament, but it has also delivered the country its first Aboriginal and Muslim politicians in the lower house, and its youngest.
Neither the ruling Labor party or conservative opposition managed to secure enough seats to claim office in the closest race in decades, with the balance of power to fall to a handful of independent and minority MPs.
Among those elected to Australia's first hung parliament in 70 years is Bosnian-born union worker Ed Husic who claimed a seat for the Labor party in Sydney as the country's first Muslim MP.
Baby-faced Wyatt Roy, 20, was elected to parliament as its youngest ever member, just hours after voting for the first time.
Roy, a university student, snatched the key northern seat of Longman for the conservatives, with 52 percent of the vote.
"I don't think I was ever the likeliest candidate and I'm very, very proud of the work that the local campaign team did here," Roy said.
"There's a lot of people out there in the community who put a great deal of faith and trust in me and I can't tell you how humbling an experience that really is."
The conservatives also looked on track to deliver Australia its first Aborigine to the lower house, with Ken Wyatt ahead of his rival in the Western Australian seat of Hasluck.
Fewer than 400 votes separated him from sitting Labor MP Sharryn Jackson on Sunday, but Wyatt, who is of Noongar, Yamatji and Wongi heritage, said he was confident "we will fall over the line."
"I think Australians have been very generous in the way we've come forward over the last 30 years," said Wyatt.
Aborigines were denied the vote for many years, and Wyatt will be only the third indigenous person elected to either house of parliament after Neville Bonner and Aden Ridgeway served in the Senate from 1971 and 1998 respectively.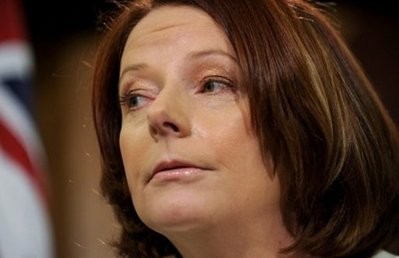 Australian Prime Minister Julia Gillard Sunday vowed to keep the country stable after a fierce voter backlash produced a rare hung parliament. AFP
Wyatt said he would use his first speech to pay tribute to former Labor leader Kevin Rudd for his historic February 2008 apology to the Stolen Generations of Aborigines removed from their families by white settlers.
"When he delivered his address to the house that day, being a typical macho male I really didn't think the emotions would impact me as much as they were," Wyatt told the AAP newswire.
"I must admit I was sitting there with tears because I knew what my mother and her brothers and sisters had gone through, particularly knowing the abuse that happened to her.
"I wish my mother was alive and (could) have seen."
The final result in Hasluck is not likely to be known for up to two weeks.
Aborigines are believed to have numbered around one million at the time of white settlement in 1788, but there are now just 470,000 out of a population of 22 million, and they are Australia's most disadvantaged minority.