SYDNEY, Nov 5, 2009 (AFP) - Australia has ruled out sending extra troops to Afghanistan, despite US and NATO calls for reinforcements to shore up the campaign against a resurgent Taliban, a report said Thursday.
Defence Minister John Faulkner told US officials Australia had decided against boosting its 1,550-strong troop commitment to the strife-torn nation beyond the 450 extra soldiers it sent earlier this year.
"There is a very clear understanding and appreciation of the fact that Australia increased the number of troops to Afghanistan very significantly on April 29 this year," Faulkner said, according to public broadcaster ABC.
"I've certainly indicated to those I've spoken to here in the United States over the last couple of days this number is right," he added.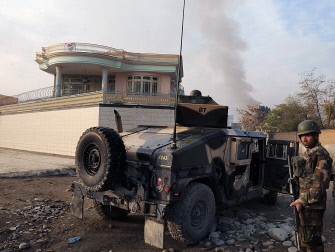 (FILES) In this picture taken on October 28, 2009, Afghan National Army keeps watch as smoke rises from The United Nations Bekhtar Guesthouse in Kabul on October 28, 2009, where UN staff were killed following an attack (AFP photo)
Faulkner, on an official visit to Washington, met with congressional members, military commanders and his American counterpart, Defence Secretary Robert Gates.
Faulkner said US authorities "well understood that Australia uniquely has responsibilities in its own area of the world," and appreciated Australia's commitment -- the ninth-biggest contingent of foreign troops.
Last month he said Australia was planning to complete the operation in the "shortest time-frame possible" once it had fulfilled its responsibilities training the Afghan National Army in the southern province of Uruzgan.
"My own personal view is that we will not prevail in Afghanistan unless we win the hearts and minds of the Afghan people," he said, urging re-elected President Hamid Karzai make good on vows to crack down on corruption and improve governance.
"I think the challenge for the international community is to ensure that Mr Karzai does deliver in terms of that commitment," he said.
General Stanley McChrystal, Afghanistan's top US and NATO commander, has warned that the war could be lost within a year without extra resources to fight the Islamists, who were driven from power by the 2001 US-led invasion.
President Barack Obama is currently considering a large boost in US troop numbers in the face of growing public opposition in the United States.