SYDNEY, Jan 29, 2010 (AFP) - Sri Lanka's defeated presidential candidate Sarath Fonseka has not sought asylum from Australia, Foreign Minister Stephen Smith said as he urged the government ensure the retired general's safety.
Australian media reported that Fonseka was considering seeking temporary asylum in Australia following his defeat in Tuesday's polls, which the former army chief says were won fraudulently by President Mahinda Rajapakse.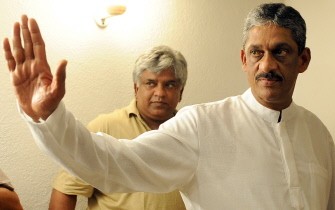 Former Sri Lankan cricketer Arjuna Ranatunga (L) looks on as former army chief and beaten presidential candidate General Sarath Fonseka (R) waves to the media in Colombo on January 28, 2010. AFP photo
But Smith, speaking to reporters in London on Thursday, said the Australian embassy in Colombo had not received any request from Fonseka.
"My advice is that no such approach has been made so we're not in receipt of any such approach from General Fonseka," Smith said, according to the Australian Associated Press.
"I think that it is very important that General Fonseka be provided with two things: that he be provided with freedom of movement, and he be provided with security, personal security in the circumstances that he is in."
Fonseka said Thursday he would ask the Supreme Court to annul this week's election result, alleging huge fraud, and that he feared arrest.
He said his security team of 80 troops had been withdrawn and replaced by four plain-clothed police officers, depriving him of the security needed to guard against potential attacks from remnants of the Tamil Tiger rebels.
The former four-star general, who along with Rajapakse crushed the separatist rebels last year, said Wednesday he had "no intention" of leaving Sri Lanka, but conceded this might be "the best option".
The Australian newspaper said Fonseka had spoken to the US and British embassies in Sri Lanka and was planning to contact the Australian High Commission.
Smith would not comment on whether Australia would assist Fonseka.
"On matters of asylum and refugee protection, if that is what he has indicated, I don't make comments or judgments in the hypothetical," he said.
Fonseka holds permanent US residency. But in November, he cut short a US visit to avoid questioning by the Department of Homeland Security over alleged war crimes against Tamil civilians.
Fonseka had earlier agreed to be questioned, but the Sri Lankan government said it feared he would be asked to provide evidence against Defence Secretary Gotabhaya Rajapakse, the president's younger brother.